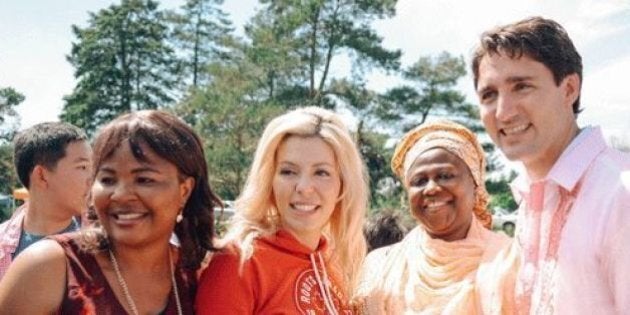 SUTTON, QUE. — Eve Adams is fighting back against accusations she's a turncoat Liberal in a new call to Grit members in her hotly contested riding on Saturday.
Adams, the MP for Mississauga—Brampton South, will discover Sunday evening if she is the Liberal candidate who will battle Finance Minister Joe Oliver in the Toronto riding of Eglinton—Lawrence on Oct. 19. But before any head-to-head challenge against Oliver can occur, she first faces off against Toronto lawyer Marco Mendicino.
Mendicino is the local candidate who has been pounding the pavement in that riding back when Adams was a Conservative and long before she thought of becoming a Liberal.
UPDATE: Adams lost the Liberal nomination to Mendicino after a vote Sunday.
Fast forward five months, hundreds — if not thousands — of memberships sold, and high-profile endorsements on each side, Adams and Mendicino remain in a tight race in one of the most interesting Liberal nomination battles.
Saturday, each camp called on prominent Liberals for reinforcements.
First, former interim Liberal leader — and ex-Ontario NDP premier — Bob Rae lent his support to Mendicino with pre-recorded phone call to Liberal members in the riding.
Rae said he has gotten to know Mendicino over the past year and had been impressed by his hard work and commitment to the community. "We need a strong candidate in Eglinton—Lawrence to beat Joe Oliver and help form a strong Liberal government," Rae said, according to an audio recording acquired by Sun reporter David Akin.
"Please join me in supporting a real local candidate, a good Liberal, and come vote for Marco at the nomination on Sunday," Rae said.
Rae's digs were a little too rich for the Adams camp, who recruited former Ontario deputy premier and self-described "lifelong Liberal" George Smitherman to do a recorded call for them Saturday evening to 3,500 members.
"Today, I am calling you in support of Eve Adams," Smitherman said, in an audio recording acquired by The Huffington Post Canada. "As a Liberal, I have often welcomed people from other political parties into our political party. During the time that I represented Toronto Centre, I was pleased to welcome Bob Rae into the Liberal party to support him for the leadership of our party and to work with him in Toronto Centre."
Smitherman added that Adams was the "only" person with the track record to defeat the Conservatives and deliver concrete results for Eglinton—Lawrence. The call also clips Trudeau speaking highly about Adams as a person who has "passion and commitment to her constituents."
Adams also acknowledges in the call that "it is a tight race."
A source told HuffPost that Adams has sold about 2,800 memberships while Mendicino has moved about 1,800. Fewer than five per cent of memberships were challenged, and the Liberal party ruled 26 members ineligible to vote out of a total of about 4,600, the source said.
The vote runs from 2 p.m. to 6 p.m. ET Sunday.