TORONTO - The Canadian men's 4x100-metre relay team was disqualified at the Pan American Games on Saturday, denying sprinter Andre De Grasse a third gold medal.
Gavin Smellie, De Grasse, Brendon Rodney and Aaron Brown appeared to have won the gold medal when they crossed the finish line in a Pan Am Games record time of 38.06 seconds.
But a protest filed by the United States, Trinidad and Tobago and Brazil over Smellie stepping on the line during the first leg of the race was upheld.
It was the second protest filed after the race.
An earlier American protest saying Rodney stepped out of his lane was denied.
The U.S. moves from silver to gold, with Brazil taking second and Trinidad and Tobago moving up to third.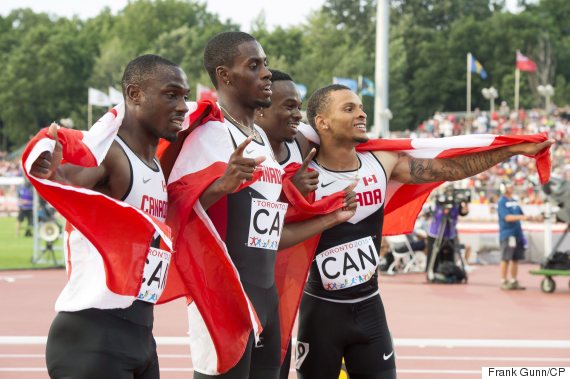 Canada's Gavin Smellie, left to right, Brendon Rodney, Aaron Brown and Andre De Grasse celebrate after they thought they won gold in the men's 4x100m relay final at the 2015 Pan Am Games in Toronto on Saturday.
De Grasse won the 100 and 200 metres earlier at the Games.
The controversy marred what was otherwise a positive day for Canada's track and field team. Derek Drouin of Corunna, Ont., won the men's high jump with a leap of 2.37 metres. Teammate Mike Mason of Nanoose Bay, B.C., was second with a jump of 2.31 metres. Donald Thomas of the Bahamas won bronze at 2.28 metres.
Nicole Sifuentes and Sasha Gollish captured silver and bronze in the women's 1,500 metres.
Sifuentes, a 29-year-old from Winnipeg, ran 4:09.13 seconds.
The 33-year-old Gollish, from Toronto, crossed in 4:10.11, despite running all but 150 metres with her shoe half off. Another runner had clipped the back of it near the start.
Muriel Coneo of Colombia won the gold, outkicking Sifuentes down the homestretch to finish in 4:09.05.
Canada's women's 4x100 relay of Crystal Emmanuel, Kim Hyacinthe, Jellisa Westney, and Khamica Bingham raced to bronze in a time of 43.00.
The Americans won in 42.55, followed by Jamaica (42.68).
The women's 4x400 relay team of Brianne Theisen-Eaton, Taylor Sharpe, Sage Watson and Sarah Wells capped the night with a bronze.
Also on HuffPost
Canadian Gold Medallists At Pan Am Games