Kanye West had thousands of athletes and spectators dancing at the 2015 Pan Games Closing Ceremony on Sunday night. And then he left everyone scratching their heads.
After powerhouse performances by Serena Ryder and Pitbull, Kanye took to the stage, dressed casually in blue shirt and ripped jeans.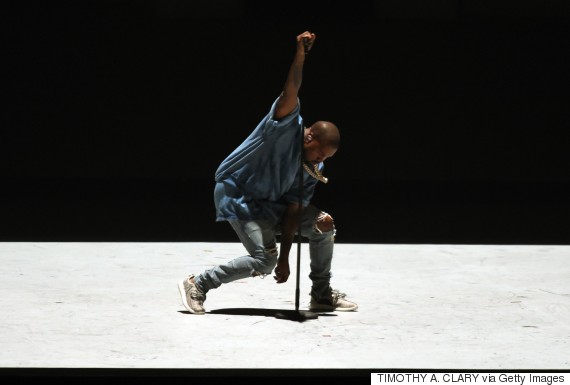 The superstar rapper also went in for a minimal approach for his performance, with no backing musicians and a sparse, almost bare set.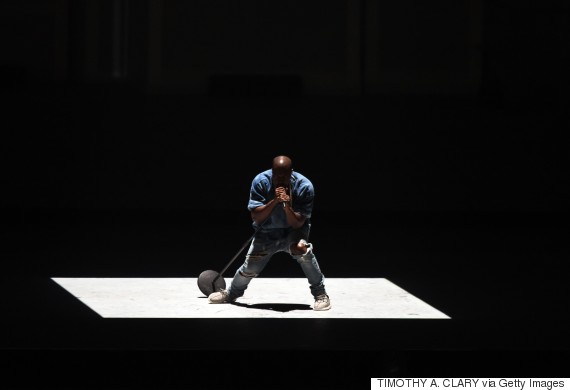 But he didn't skimp on the energy or the hits -- he took the stage to belt out "Stronger" -- dropping the line "Take that, haters" at the end -- and followed it up with other hits such as "Power", "Gold Digger" and "All Of The Lights" -- by which time he had called for all the lights in the Pan Am Dome/Rogers Centre to be brought up so he and his audience were in clear view of each other.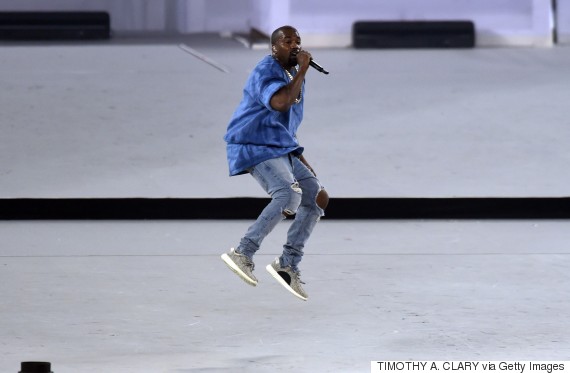 But it was the end of his set that got those in the audience and at home buzzing. According to ceremony-goers inside the dome, it seemed as though the rapper's microphone had been cut off before he had finished his last song, "Good Life," because they couldn't hear his vocals. Kanye then threw his microphone into the air and left the stage.
@teamkanyedaily Kanye tosses the mic and walks off the pan am stage after his mic doesnt work 😩😩😩#PANAMANIA pic.twitter.com/W6oZQut9DS

— Adam Carnicelli (@AdamCarnicelli) July 27, 2015
Looks like @kanyewest has redefined #droptheMic by #tosstheMic during #panam2015 closing ceremonies. pic.twitter.com/Tnb7YicKJ8

— Patrick Morrell (@PatMorrell_CBC) July 27, 2015
But TV and online audiences had a slightly different experience, because they were able to hear Kanye's vocals right up to the point of the mic throw:
That poor microphone #CBCPanAm http://t.co/kM7N2o6jyc

— CBC Sports (@cbcsports) July 27, 2015
CBC later clarified that a technical issue caused Kanye's microphone to cut out in the stadium:
UPDATE: @kanyewest's mic cut out in-stadium due to technical issue - audio remained on in broadcast. #CBCPanAm

— CBC Olympics (@CBCOlympics) July 27, 2015
Of course, that didn't stop Twitter from making jokes about the "mic drop":
"Imma NOT let you finish" - Toronto microphone to Kanye West #PanAmGames

— Mike Valente (@valentevariety) July 27, 2015
#KanyeWest mic died while doing the closing number at #PanAmGames U might say he was interrupted #TaylorSwift & #Beck might call it Karma.

— Charles Adler (@charlesadler) July 27, 2015
While others said the organizers messed up:
#PanAmGames cut @kanyewest mic right at 10pm mid song. What a complete joke and embarrassment to #Toronto

— RatherBBurnin (@RatherBBurnin) July 27, 2015
I supported @TO2015 so hard until that moment they used @kanyewest to sell tickets & then turned his mic off. #PanAm2015 #CBCPanAm

— Nicole D'Cruz (@nicopop) July 27, 2015
Pan Am Games organizers sparked controversy earlier this month when they announced that Kanye West would be the headliner for the Games' closing ceremony. One online petition drew more than 50,000 signatures.
And sure, some had plenty to say about Mr. West:
Please... What was the rationale behind picking Kanye West??? #PanAm2015

— Kyle Tiney, CFRE (@kyletiney) July 27, 2015
But many in the audience and online thought Kanye killed it for the Pan Am closer:
No lights, no dancers, just pure Kanye. Love him or hate him, have to admire that. #TO2015 #PanAm

— Diana Mehta (@dianamehta) July 27, 2015
To all the #haters @kanyewest shut y'all down. He was great & if u watch closely, he even called u out a few times #epic #PanAmazing #PanAm

— Bryanne Drysdale (@bryannedrysdale) July 27, 2015
When @kanyewest hit the stage tonight, the Skydome came alive! True performer & artist. Turning the mic off at 10pm sharp? Not cool #PanAm

— Gail McInnes (@gailmcinnes) July 27, 2015
They just didn't know what to think about the ending. But isn't that the beauty of Kanye?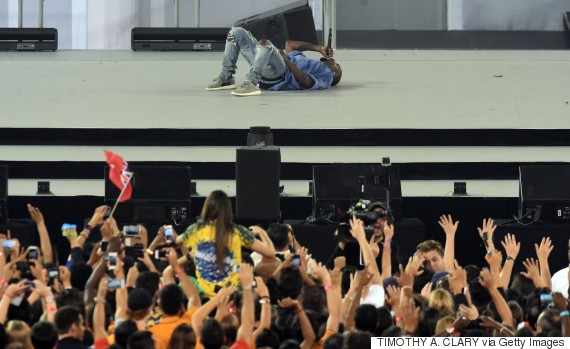 With files from Lisa Yeung
Also on HuffPost