While the Pan Am Games started off with low attendance but high enthusiasm, the closing ceremony capped off 16 days of competition with the perfect message from disputed co-headliner Kanye West, and his song "Stronger:"
"Take this, haters."
That's from the first song West played in his eight-song closing ceremony set, before the fireworks went off to Serena Ryder's "Together We Are One" Pan Am/Parapan anthem. While West's minimalist medley captivated the crowd — which included Canadian kayaker Adam van Koeverden — he ran off the stage following a performance of his song "Good Life," after his mic cut out. HuffPost Canada Style editor Madelyn Chung was on-hand and documented the moment:
That's awkward. Kanye's mic cut off at #PanAm2015 closing ceremonies. Then he left. Fail!

— Madelyn Chung (@madelynchung) July 27, 2015
The awkward Kanye moment. #PanAm2015 pic.twitter.com/rzfqEB29xz

— Madelyn Chung (@madelynchung) July 27, 2015
That poor microphone #CBCPanAm http://t.co/kM7N2o6jyc

— CBC Sports (@cbcsports) July 27, 2015
Confusion aside, the Closing Ceremony featured multiple memorable moments, including bhangra dancers, shout-outs for the more than 23,000 volunteers, and Ryder's epic rendition of the games' 2015 theme song in a colourful fringe outfit.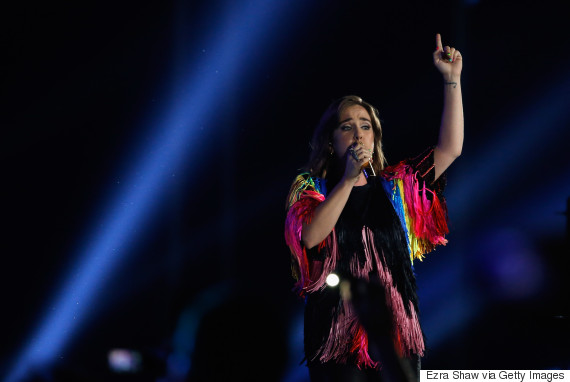 "We gave away thousands of medals, I wish we had 23,000 more. I would give one to every single volunteer" - Saad Rafi, #PanAmGames CEO

— HuffPost Canada (@HuffPostCanada) July 27, 2015
Canadian flagbearer and basketball gold medallist Kia Nurse proudly represented Team Canada on stage, as the athletes made their way into the Rogers Centre for the festivities at the start of the ceremony.
We see you, Kia Nurse #ClosingCeremony #CBCPanAm http://t.co/WVXNDwoUkF

— CBC Sports (@cbcsports) July 27, 2015
.@teamcanada enters #panam2015 closing. Congrats to all the athletes! #proud https://t.co/Y99Wk9wN0z

— Kirstine Stewart (@kirstinestewart) July 27, 2015
Before passing the torch to 2019 host city Lima, Peru, the Toronto ceremony included lots of multicultural dancing, singing children and a giant Pan Am alpaca.
Did you see #PanAmAlpaca? Here he is backstage before his big TV debut. pic.twitter.com/gFIyFZ6fdx

— TORONTO 2015 (@TO2015) July 27, 2015
But that wasn't the only type of lighthearted fun at the ceremony. Pan American Sports Organization vice-president Ivar Sisniega referenced host city Toronto's traffic woes by extending his thanks for the controversial HOV lanes.
"We want you to know that we sincerely appreciate your sacrifice and solidarity in allowing us to use the HOV lanes for these past three weeks," said Sisniega to stifled laughter from the crowd. "It made a difference!"
Sisniega also gave the city props for being able to house all of the visiting athletes, press and spectators.
"You have every right to to imagine and to dream of one day hosting the Olympic Games," said Sisniega.
Though the Canadian Olympic Committee's dreams of hosting the 2024 summer games in Toronto may pose a challenge, that did not stop the city from celebrating their Pan Am hosting achievements and a record-breaking 217 medal tally for Canada.
Congratulations to @TeamCanada for setting a new national record for #PanAmGames medals.

— Stephen Harper (@pmharper) July 27, 2015
Later in the night, Pitbull danced up a storm in all-white, and indoor pyrotechnics projected an image of the Toronto skyline before Kanye made his appearance, and fireworks actually lit up the Toronto night.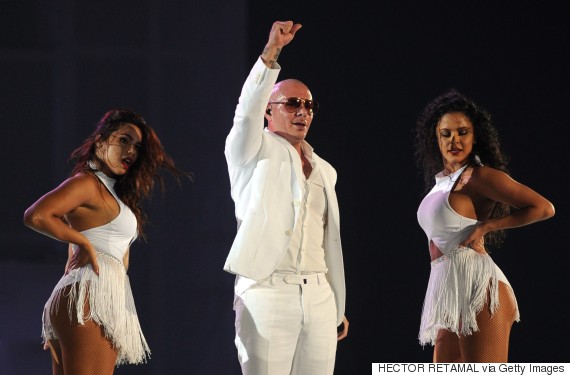 "Mr. Worldwide" in the building #CBCPanAm pic.twitter.com/5hVD5KxNp8

— CBC Sports (@cbcsports) July 27, 2015
A spectacular finish to #TO2015 🍁 #EpicIsON https://t.co/v2eFow7kos

— Ontario Travel (@OntarioTravel) July 27, 2015
CN tower fireworks. #TO2015 pic.twitter.com/mjUdwClNMH

— Justine Lewkowicz (@JustineLewkowic) July 27, 2015
What did you think of the Pan Am Games closing ceremony? Sound off in the comments below.
ALSO ON HUFFPOST:
Photo gallery

Pan Am Games 2015 Closing Ceremony Photos

See Gallery