It's time for Torontonians to grab some water and crank up their air conditioners, as Hogtown is set to see sweltering heat this week.
Environment Canada has issued a heat warning for Southern Ontario, with the mercury expected to reach the low 30s into Thursday.
Such alerts are issued when there's a chance of temperatures causing an "elevated risk of heat illnesses."
It also covers areas such as Hamilton, St. Catharines and Niagara Falls.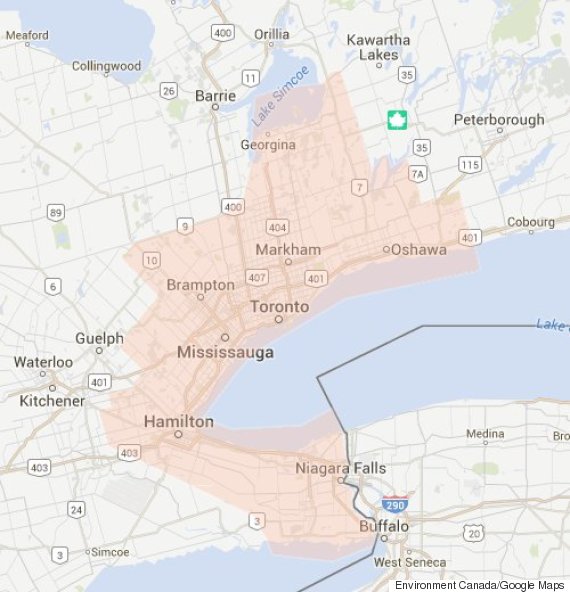 Environment Canada's alert comes thanks to a hot airmass whose effects could reach as far as southwestern and eastern Ontario on Monday, it said.
The agency is thus warning people to watch out for symptoms of heat-related ailments, such as headaches, dizziness, nausea and vomiting.
"If you experience any of these symptoms during extreme heat, immediately move to a cool place and drink liquids. Water is best," the warning reads.
Toronto's medical officer of health has also issued a heat alert, and is advising people to move into air-conditioned spaces such as shops and libraries, to take cold showers and wear loose clothing when going outside.
"Landlords of buildings without air conditioning are encouraged to provide a dedicated cooling room for vulnerable residents to escape the heat," the alert said.
An Environment Canada forecast shows that temperatures could climb as high as 35°C on Wednesday before dropping back down to 30°C on Thursday. The Toronto Star reports that Monday's temperature could feel like 38 degrees, with humidity expected to be at 41 per cent.
The weather is expected to cool off slightly for the long weekend, with a 30 per cent chance of showers on Saturday and Sunday.
Like Us On Facebook

Follow Us On Twitter

Also on HuffPost
Pigs Left To Swelter In Toronto Heat Wave