Cara Delevingne has been busy attending interviews and premiers to promote her new film, "Paper Towns."
However, the 22-year-old British model and actress is making headlines for one painfully awkward interview with the hosts of "Good Day Sacramento".
The interview started off on a sour note when anchor Marianne McClary addressed Delevingne as "Carla" rather than "Cara." Delevingne then proceeded to sarcastically answer a series of irksome questions from the hosts.
McClary began the interview by asking the actress whether she read the book by author John Green that the movie is based on, to which Delevingne replied: "No, I never read the book, or the script actually. I kind of winged it. No, of course I read the book."
Co-host Ken Rudulph then asked her the odd question: "Do you find that it's easier for your to focus, because you're so busy? If you had downtime maybe it wouldn't be so easy for you. What do you think?"
A perplexed Delevingne answered: "No. I don't know where that comes from. No."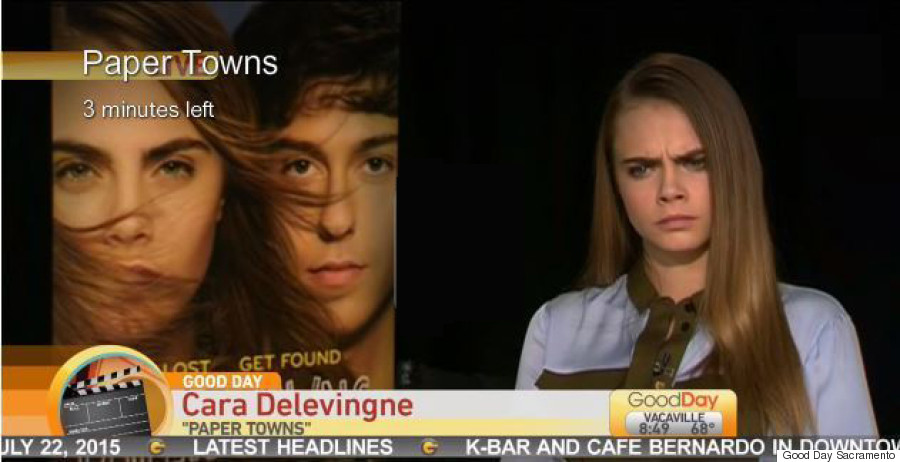 McClary then asked Delevingne what she liked about Margo (the character she plays in the film), and whether she could relate to her in anyway. Once again, Delevingne sarcastically replies, "No, I actually hate her," before going on to actually answer the question.
Entertainment anchor Mark S. Allen then chimed in, calling Delevingne out for appearing less enthusiastic when speaking about the movie than she had in previous interviews, and asking whether she was exhausted.
McClary then commented that Delevingne seemed irritated before adding, "Maybe it's just us."
"I think it's just you," Delevingne replied.
The cringe-worthy interview ended with McClary cutting the interview short. "We'll let you go take a little nap," she said, "Maybe get a red bull, how about that?"
Once Delevingne was off air, the hosts went on to criticize the actress for her sarcastic answers.
"You make $5 million for six weeks worth of work," Allen said. "You can pretend to talk to Good Day Sacramento with some oomph."
Delevingne took to Twitter on Wednesday to comment on the interview:
Some people just don't understand sarcasm or the British sense of humour

— Cara Delevingne (@Caradelevingne) July 29, 2015
So far, reaction to the interview has been divided with some, including actor Zach Braff, defending Delevingne, calling her interviewers' questions dull and condescending.
@Caradelevingne or how it's condescending to ask an actress if she's read the book.

— Zach Braff (@zachbraff) July 29, 2015
As for the anchors? Well, they had various responses.
Yeah, I could have asked a better question. That was my bad. LOL https://t.co/lKKHn7F0pH

— kenneth rudulph (@GoodDayKenR) July 29, 2015
Check out how a true class act deals with his jillionth interview: Sir Ian McKellan! « Good Day Sacramento http://t.co/Ylyqmzpcwz

— Marianne McClary (@GoodDayMarianne) July 29, 2015
Check out the interview below, and let us know your thoughts in the comments.
Follow Huffington Post Canada Style on Pinterest, Facebook and Twitter!
Also on HuffPost