(Relaxnews) - Vogue has tapped Amazon to deliver hard copies of their September issue -- the biggest edition of the year.
With magazines increasingly shifting their strategy towards digital titles for tablets and e-readers, the move -- the first collaboration of its kind for Amazon -- is a break with tradition.
Though the September issue of Vogue hits newsstands August 19, Amazon customers can place an order for the issue and receive it as early as August 14, reports WWD.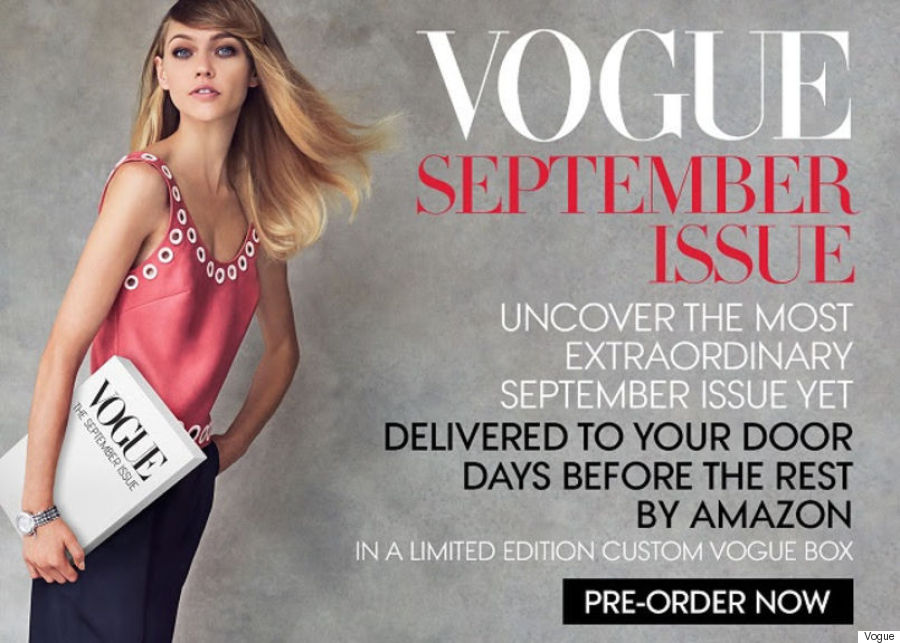 "We sell a lot of single copies in physical stores and so we thought, why not order it this way?" Conde Nast executive vice president Monica Ray told WWD, explaining that consumers are purchasing differently. Ray called it the "virtual newsstand."
Monica also says the partnership will likely be extended to other magazines in the publisher's portfolio, signaling that they would be select issues of importance.
The price remains the same at $5.99, and the publication will arrive in a custom box. Amazon will also deliver the issue internationally.
Pre-orders can be placed at http://amzn.to/1LPvgK8.
In the meantime, check out some of the previous September covers below:
With files from Madelyn Chung
Follow Huffington Post Canada Style on Pinterest, Facebook and Twitter!