Well this is ironic.
Sylva Stoel, a 17-year-old former J.C. Penney employee claims she was sent home for wearing shorts that were deemed "too revealing." The red linen shorts were from -- wait for it -- J.C. Penny's "career" section. (Lawlz.)
She quit her job last week after she was told to go home and change.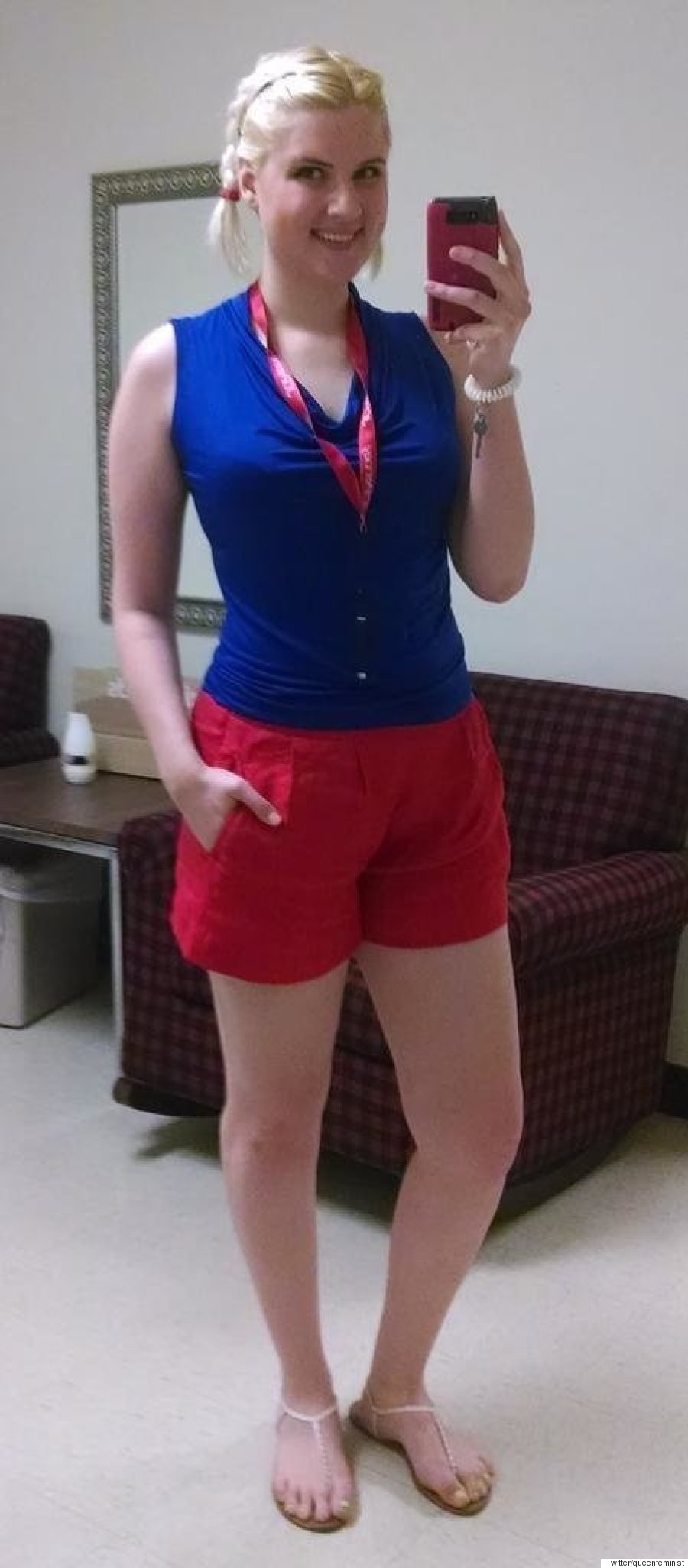 "I was at work for about 10 minutes before he approached me," she told TODAY.com. "He asked if anyone talked to me about dress code at orientation."
She told the The Huffington Post via email: "I told [my manager] that I thought it was unfair to send me home due to the fact that I had purchased the shorts from JCPenney's own career section, but he insisted that I go home and change anyways."
Stoel shared the image of her outfit on Twitter, questioning the fairness of the standard, which she says unfairly targets women.
Boss sent me home for wearing "too revealing" shorts that I bought from the store I work at in the career section. pic.twitter.com/vrAnN4beC2

— Sylva (@queenfeminist) July 24, 2015
He asked how long it'd take for me to go home & change. I said "idk probably the whole day" I'm not coming back

— Sylva (@queenfeminist) July 24, 2015
"Rules are rules" but when the rule is unfair we must question WHY it's a rule, WHO made the rule, and then BREAK THAT RULE.

— Sylva (@queenfeminist) July 28, 2015
Dress codes benefit patriarchy bc they shame women for "dressing provocatively" and absolve men from all blame. Break the dress code.

— Sylva (@queenfeminist) July 28, 2015
According to J.C. Penney, its dress code does not allow for shorts of any kind.
"JCPenney's dress code policy for store associates prohibits the wearing of shorts of any length," the company said in a statement. "This policy applies to both male and female associates."
However, Stoel told People she didn't know about the no-shorts rule.
"They never said 'no shorts' at orientation. I never even got a handbook or anything. The manager was asked, and she said, no tank tops, spaghetti straps, absolutely no denim, and no T-shirts. And when asked for clarification she said, nothing that you're falling out of. So I thought, 'I'm not falling out of these shorts.'"
Regardless, Sylva is pleased with the discussion that's been occurring following the incident.
"It's blowing up," she told TODAY.com. "I'm very satisfied that people are paying attention to the cause and starting a discussion on dress codes in the workplace and at schools, and how we view women."
Follow Huffington Post Canada Style on Pinterest, Facebook and Twitter!
Also on HuffPost
Fashion Controversies Of 2014