Roy Hsu via Getty Images
Canadians' average weekly earnings saw an unusually steep fall in May, according to data from Statistics Canada.
The latest survey of payroll employment, earnings and hours found wages dropped by 0.6 per cent from April to May, to $948 on average per week.
Wages are still up 1.4 per cent compared to the same month a year earlier, but only five of the 10 largest industrial sectors of the economy saw any wage growth during that time, StatsCan said.
This doesn't come entirely as a surprise. With the value of Canada's oil exports dropping sharply over the past year, many economists had been expecting a decline in national income, which would translate into lower wages.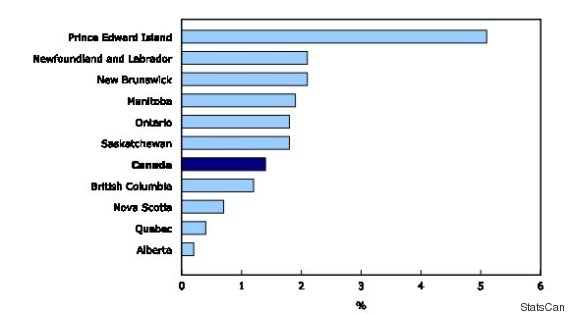 Prince Edward Island has led the country in wage growth over the past year, while Alberta has been the laggard, with wages essentially flat.

Workers in the oil, gas and mining sector have seen the steepest wage declines, down by 4.4 per cent in the past year, and down by 0.5 per cent in just the past month. The sector shed 18,400 jobs over the past year, or nearly 8 per cent of the total.
Wages in construction also fell, by 1.3 per cent over the past year, even as employers added nearly 16,000 jobs in the sector, for a gain of 1.6 per cent.
Some of the strongest wage gains over the past year belong to retail workers, whose average earnings are up 2.9 per cent. But that trend ended in May, with wages in retail falling 0.5 per cent. Job growth in the sector has been virtually nonexistent, up by 2,000 positions in a sector that employs more than 1.9 million Canadians.
The dismal wage numbers largely square up with StatsCan's GDP report for May, which came out Friday and showed Canada's economy contracting yet again, and at a faster pace than earlier.
The economy shrank 0.2 per cent in May, compared to a contraction of 0.1 per cent in April. With Canada's economy shrinking in six of the last seven months, most observers say it's very likely the country fell into recession in the first half of 2015.
The payroll survey also found that much of the job growth over the past year came from two sectors that rely heavily on public funding: Health care and education. Between them, the two sectors created some 47,000 jobs, more than offsetting the losses in the energy sector caused by falling oil prices.
Interestingly, the largest wage growth belonged to management -- up 14.9 per cent on the year. But that sector has lost jobs (0.1 per cent of them) over the past year, so there may be statistical "noise" in this data.
Here are where wages are rising and falling in Canada.
Wage Gains and Losses, Canada, May 2015