It was a sea of dazzling white in downtown Calgary Thursday evening, as thousands of picnickers descended upon a Calgary park for an annual outdoor dining experience known as Dîner en Blanc.
The event, which originally started in Paris, has attracted a crowd of more than 2,500 Calgarians in the past, and this year was no exception.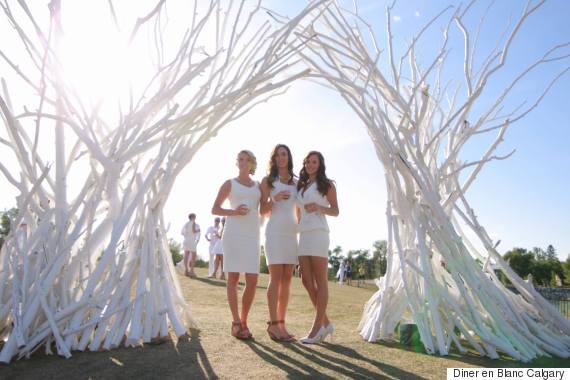 The secret location at the Peace Bridge at Eau Claire was revealed to participants shortly before the event. It was up to diners to bring their own white tables, white chairs, white linens and white tableware.
The people are arriving @DinerEnBlancCG #zerowasteevent #yyc pic.twitter.com/w0KZX3OdVs

— Do It Green (@dig_events) July 30, 2015
We like to make a splash ;) the #BOOM team's table at @DinerEnBlancCG! #deb #DinerEnBlanc #eventprofs #dinnerdesign pic.twitter.com/Cm0d97wFis

— Boom Goes The Drum (@boomgoesthedrum) July 31, 2015
Chef Michael Nobel prepared the meal, via his Inglewood eatery, The Nash.
Soak it all in... #DEBCgy pic.twitter.com/U7VWpKo5Th

— Diner en Blanc Cgy (@DinerEnBlancCG) July 31, 2015
Dîner en Blanc started in Paris in 1988 by Frenchman Francois Pasquier. He invited some friends to a park for a picnic dinner, and asked that everyone wear white so they could find each other. The event has since exploded with Paris organizers needing to cap the picnic at 15,000 people.
So excited to see @thewetsecrets @DinerEnBlancCG love their stylish outfits! #WVP @PlanetLeor @nmc_canada #Calgary pic.twitter.com/qwsSfqWBO5

— Worldviews Project (@WorldviewsPro) July 31, 2015
That's a wrap @DinerEnBlancCG... #LeDisco anyone? #DEBCgy pic.twitter.com/551z7UVEnv

— The Social Concierge (@TSC_Agency) July 31, 2015
And because the elegant event is so visually stunning, it's not hard to understand why the epicurean dinner has been replicated worldwide. Despite the long list of rules and very strict dress code, the pay-to-play event attracts a Calgary long wait list.
Check out photos from last year's Diner en Blanc in Calgary:
Diner en Blanc Calgary 2014