jmiks via Getty Images
Canada's economic contraction accelerated in May, shrinking 0.2 per cent on the month, Statistics Canada said Friday.
That marks the fifth straight month that the economy has shrunk, with every month since the start of the year registering a negative number. The rate of decline in May was twice that in April, when the economy shrank 0.1 per cent.
The numbers make it almost inevitable that Canada fell into recession in the first half of the year. The economy would have to show a massive bounce-back in the data for June in order to avoid two consecutive quarters of contraction, the technical definition of a recession.
The oil, gas and mining sector shrank for the seventh month in a row, down 0.7 per cent from April.
But weakness is being seen far beyond the oil patch. Manufacturing was actually a bigger drag on GDP than oil was in May, with that sector shrinking 1.7 per cent. Retail and construction were two bright spots, each rising 1 per cent on the month.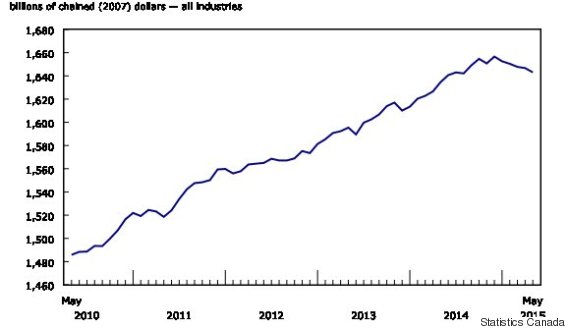 This chart from StatsCan shows Canada's gross domestic product peaking at the end of 2014, and declining ever since.

Still, some economists say Canada hasn't exhibited some of the classic hallmarks of a recession, citing the country's job growth and stable employment rate.
But low oil prices, a falling loonie and diminished exports have bruised the economy this year, casting doubt on the federal government's promise to balance the books as it heads into an election.
All the same, Prime Minister Stephen Harper said last week that his government was "well ahead" of its own forecast for a balanced budget despite the economic struggles.
The May GDP reading "does not provide much room for optimism. Continued broad-based weakness, with 13 of 20 sectors posting declines, gives ongoing reason for concern," TD Economics said in a client note.
"However, we believe that brighter skies are just around the corner. The recent depreciation of the loonie against the greenback, complemented by solid domestic demand stateside, should create the right conditions for resurgent export growth," economist Randall Bartlett wrote.
"The July interest rate cut is also good news for consumers, the housing market, and businesses looking to invest."
- With files from The Canadian Press
Also on HuffPost:
Photo gallery

Job Growth Canada 2015-2020

See Gallery