Adidas is defending a new women's soccer jersey that critics are calling sexist.
The sportswear retailer has secured a £750 million (C$1.167 billion) deal to design jerseys for the U.K.'s Manchester United soccer club over the next ten years.
And some are labelling its newest women's jersey sexist because it shows too much cleavage.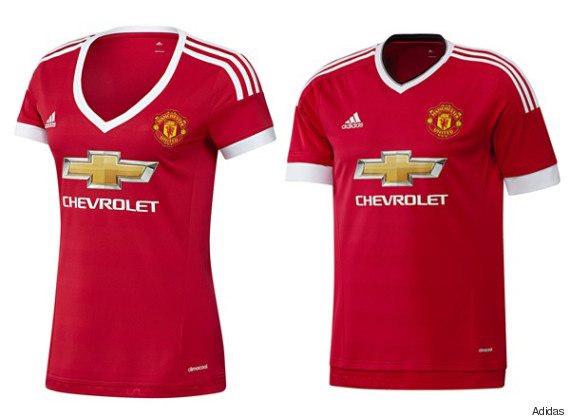 The jersey on the left is designed for women, and it features a neckline that plunges further than it does on the men's shirt (right).
Twitter user @munitedgirl was among the first to notice the difference on Saturday.
Seriously @adidas?! why is the V neck so low compared with mens one? Some of us don't like to show cleavage. @ManUtd pic.twitter.com/km4nOPs0nK

— Helin (@MUnitedGirl) August 1, 2015
Others agreed that the women's jersey would show too much cleavage.
First @ManUtd can't be bothered to have an adult women's team & now the #sexist @adidas women's shirt! #shameful

August 1, 2015
@MUnitedGirl @adidas @ManUtd some comments like "Just buy the men version then" are annoying. Of course we girl want to buy the woman ->

— Captain Wazza ♡ (@medanizer) August 4, 2015
@MUnitedGirl @adidas @ManUtd ...version because it fits us better, but just can't stand the cleavage.

— Captain Wazza ♡ (@medanizer) August 4, 2015
But some didn't feel the same.
#ManUtd fan Natalie one of 100s of women to come out in support of the ladies' kit #notsexist http://t.co/0Vd6rGiGQ2 pic.twitter.com/FwEJenV198

— Manchester News MEN (@MENnewsdesk) August 3, 2015
I don't think the Women's version @ManUtd @Adidas home Jersey is sexist. If you don't like it, buy the men's Jersey.To each his own simply!

— ati amali (@nefferati) August 3, 2015
Loving the new ladies @ManUtd shirt from @adidas Those that don't can buy the boys shirts but I love it! #MUFC https://t.co/9RBoclhCsK

— Rowetta (@Rowetta) August 3, 2015
Adidas stood up for the design by saying that it took fans' feelings into account when coming up with the jerseys, The Guardian reported.
It said the women's jersey "has a slightly different design" and is "fit to give fans a choice." The company added it has also designed women's jerseys for teams such as Chelsea and Real Madrid and had no complaints, Agence France-Presse said.
This is what women's jerseys for those teams look like.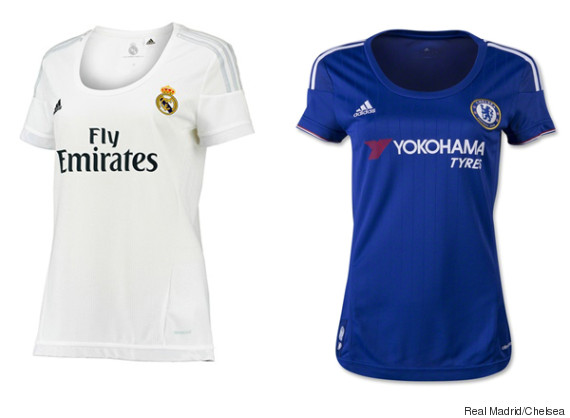 The Guardian went on to say that Nike, which previously designed Manchester United's jerseys, didn't produce a female version last year.
But @munitedgirl challenged that assertion by tweeting a photo of a Man United kit with a tag that said, "womens."
This isn't the first time that a soccer jersey has been accused of being sexist.
Earlier this year, Indonesian company Salvo Sports Apparel apologized for adding a tag to the jersey for soccer team Pusamania Borneo that said, "Give this to your woman. It's her job," Refinery29 reported.
A gentle reminder from @SALVO_ID jersey pic.twitter.com/TsOLu1G9IK

— Viola | भिओला (@veeola) March 6, 2015
Do you think Adidas' jersey for Manchester United is sexist? Tell us in the comments.
Like Us On Facebook

Follow Us On Twitter

Also on HuffPost
9 Vintage Images Of Female Athletes