An Idaho huntress is on the defensive after she posted photos that show her posing beside animals she killed.
Sabrina Corgatelli has faced intense backlash on Facebook since she added photos to her personal page that show her next to animal carcasses including giraffes, wildebeests and impalas that she killed during a recent hunt in South Africa.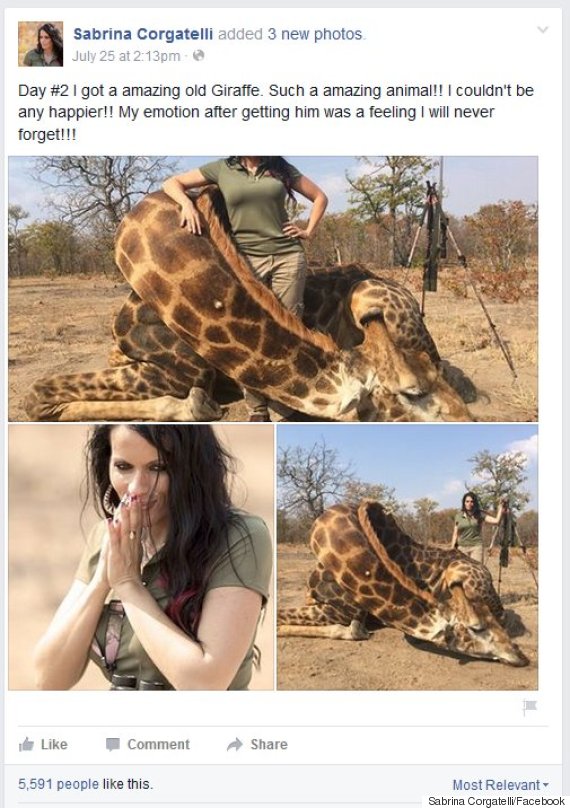 The multi-day hunt, which Corgatelli said on Facebook was organized by Old Days Safari, was legal, she told Today's Carson Daly on Monday.
"When you hunt an animal, everyone just thinks we're cold-hearted killers, and it's not that. There is a connection with the animal and just because we hunt them doesn't mean we don't have a respect for them."
The controversy comes after Minnesota dentist Walter Palmer's controversial killing of Cecil the lion in Zimbabwe last month. The lion, beloved to both locals and tourists, was lured outside a protected park at night and hit with an arrow before being shot dead two days later.
Palmer faces possible extradition to Zimbabwe to face charges for participating in an illegal hunt.
The country now accuses a second American of illegally killing a lion. Pennsylvania doctor Jan Casimir Seski allegedly shot the animal with a bow and arrow back in April.
Corgatelli said she heard about Cecil's death a day after she killed the giraffe.
Her companion, Aaron Neilson, weighed in on Palmer, telling Today it's a "slippery slope" to charge a foreign hunter who may be relying on his guides to understand a country's laws.
While some posted messages of support to the Idaho woman's page, the majority of the responses to her photos were of anger and disgust.
"So did the giraffe taste good...there is nothing about you or your life represents anything godly...you are soulless," wrote Lynn Latimer.
"You know your going to hell right? People who trophy hunt have no respect for life," Crystal Barber wrote.
British biologist and writer Richard Dawkins also commented, ridiculing her sense of "respect" for the giraffe she killed.
Your Honour, I plead guilty, but I loved and respected the victim so much, what else could I do? An ETHICAL murder. https://t.co/hB6zZAHeUq

— Richard Dawkins (@RichardDawkins) August 3, 2015
On Saturday she posted two Bible quotes she used to justify her practice.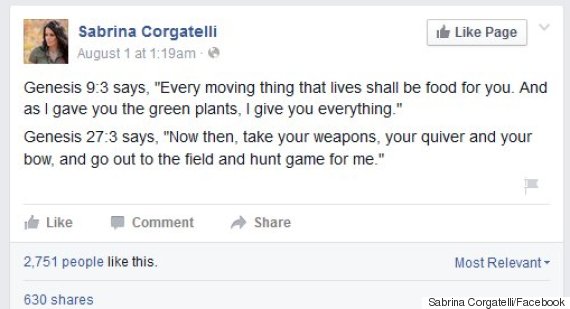 The story also comes as three major U.S. airlines, American, Delta and United, announced they will no longer transport hunting trophies.
Corgatelli flew American for at least the first leg of her trip, according to Facebook, but it's unclear if the new ban would affect any animals she brings back.
Also on HuffPost
Photo gallery
Cecil the Lion on the Empire State Building
See Gallery