Friends, family and complete strangers gathered in Hood River, Oregon, on Friday to celebrate Lila May Schow. Together they gave the five-year old, who has terminal cancer, the ultimate birthday, prom -- and wedding -- in one magical evening.
Lila May was first diagnosed with stage four Neuroblastoma cancer in September 2012. In just three years, she has gone through six rounds of chemo therapy along with radiation, surgery to remove tumours, a bone marrow transplant and many other therapies and treatments.
The family hoped Lila could try an experimental treatment, but doctors delivered bad news on the Monday before the party. Her body wouldn't be able to take the new chemo and with no further treatment Lila doesn't have long to live. They hope she will see Thanksgiving.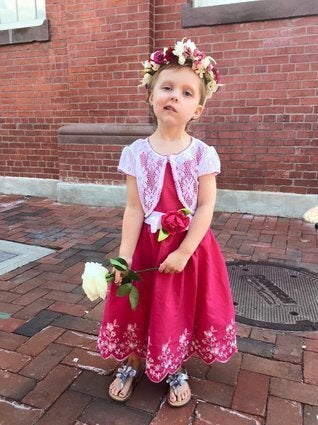 Five-Year-Old Girl With Terminal Cancer Given Ultimate Birthday Celebration
"We don't know how much time we have left," her dad Ryan Schow told KATU News, "and we have put up one hell of a fight. We just want to give her everything she deserves."
The party has been in the works for a year via a Facebook page her parents set up. People donated everything from food to decorations to Lila's custom-made Cinderella gown. "We're touched and honoured," says Lila's mom, Heidi. "This community is a bit of heaven."
Like Cinderella, she arrived at her ball with friends and her mom in a horse drawn carriage. She was greeted by hundreds of guests, a princess throne, balloons, games, face painting and even real-life Disney princesses.
Perhaps the sweetest moment of her ball was when she danced with her dad and her step-dad. Her step-dad even got on one knee, pulled out a ring and said: "Lila May, will you marry me?" Of course, the little girl said "Yes!"
Heidi was truly touched to see everyone's generosity toward her daughter. "I don't even know a lot of these people," Heidi told KOIN 6 News. "It's just the most beautiful thing I think I've ever seen."