Michael Landsberg has a face that's well known to most Canadians, thanks to his 30-year career as a sportscaster with TSN. But it's his Twitter account that's making the most difference in people's lives.
Landsberg, who was diagnosed with severe depressive disorder in 1998, has been open about his mental health struggles for almost six years, ever since an interview with now-retired hockey player Stéphane Richer.
Landsberg is also an ambassador for the Bell Let's Talk campaign, and on social media, he's creating an entire movement of his own. Using the hashtag #sicknotweak, Landsberg tweets constantly on his own struggles, and encourages those seeking help to reach out.
Even though he has no formal training, he believes sharing his experiences can help people more than anything else.
"I've learned the more open, raw and candid you are, the more valuable your message, because the more people relate to it," he tells The Huffington Post Canada.
And the hashtag, he says, is kind of a mantra, as well as being a battle cry.
"It's a statement for me — I am sick, but I am not weak," he says. "And if somehow you could get everyone in Canada to buy into that, really believe it, we would be rid of the stigma that somehow you have brought this illness upon yourself because of weakness.
"There's this belief that everyone has had bad times in their life, and you get through them. And if you don't understand the difference between that and the illness called depression, you will always believe that you are strong, and that I, Michael, am weak."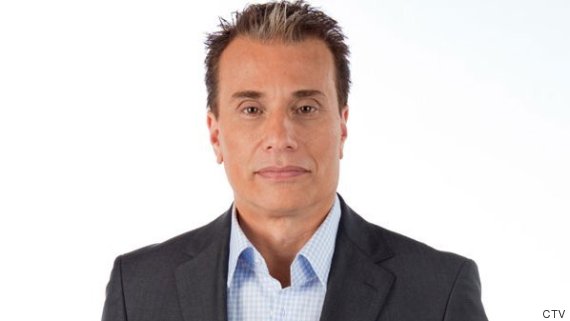 Since men are typically more hesitant to speak out about mental health in general, Landsberg sees his role — as someone who has been talking to a primarily male audience for years — as even more influential.
"When I first started speaking out about this, a lot of people sent me letters that said, 'I used to think you were a real doucehbag, but good for you for doing this.' No matter what you think of me, no one thinks I'm weak. And hey, if you believe me that I suffer from this illness and I'm clearly not weak, it makes it tougher to see mental illness as weakness."
He is also launching SickNotWeak.com, a website to help other people dealing with mental illness — or as he'd prefer it be called, brain disease. His intention is to make it the most personal, most relatable entity of its kind.
"This is not a doctor talking to you, this is me as a fellow patient talking to you. This is me using the terms me and us, this is all about first person," he says. "I want to create a community, different communities, all linked by the issue we're talking about — to deal with the two symptoms of hopelessness and loneliness."
The site is set to launch in the fall. In the meantime, he'll continue answering people on Twitter, sending them his personal email address and being there to help them through this far-too-common problem he lives with everyday.
Take a look at some of his tweets here:
My healthy mind: I believe in myself.

My Sick mind: I believe I'm useless.

June 25, 2015
One terrible symptom of depression is loss of self esteem. It makes me walk slower because I seldom want to get where I'm going

July 22, 2015
Last Sept Mike Babcock called me & said "I want to help fight the stigma." He is a man of his word.

July 21, 2015
Wondering if any1 gets you? I do. I've laid in bed haunted by the thought I would wake up feeling as bad as I had 4 months.

July 19, 2015
Fri night & I realize the day of the week has no bearing on my happiness. A Monday healthy is a joy. A Sat. sick is worthless.

May 30, 2015
Seriously it's often easier to accuse a loved one of being lazy then to accept the depth of their pain.

May 28, 2015
Nothing I've done professionally compares to the satisfaction of speaking to an audience.

FU depression. I'm using u for good.

May 2, 2015
I'm an open book with my depression, so nothing is private. Medication saved me from the hell I called home

May 29, 2015
Reason why I share #3136

I've learned a bad today doesn't mean a bad tomorrow.

It took me 10 years to learn that.

May 2, 2015
Also on HuffPost:
Also on HuffPost
What Does Depression Physically Feel Like?