There's no "i" in win — oh wait, there is. And there are also three in "prime minister."
After the federal leaders wrapped up their first debate together on Thursday evening, the Conservatives sent out a brutal tweet proclaiming Stephen Harper's win.
But somebody in the party's war room forgot to proofread a key word: minister.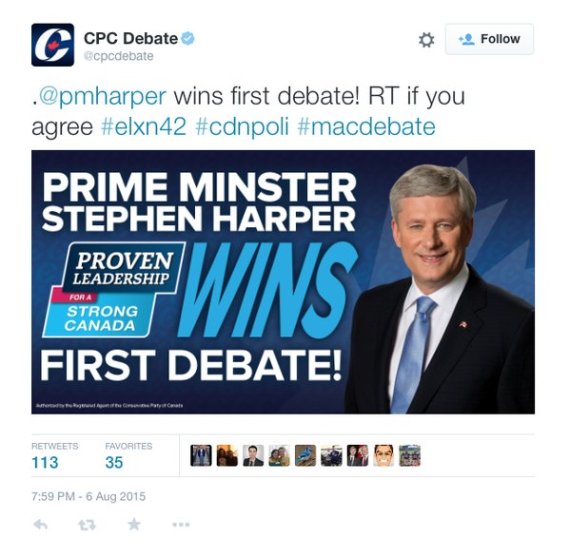 The tweet was quickly deleted, but not before it was screengrabbed by and ridiculed by debate watchers.
oops... Guess the Prime "MINSTER" 's peeps need spell check pic.twitter.com/s7AzJoBGkf

— Francis D'Souza (@cityfrancis) August 7, 2015
@ryanclassic don't worry you're spelling mistake isn't as bad as the CPC's twitter calling Harper Prime Minster

— Peter Hoefgen (@phoefgen) August 7, 2015
Harper no longer aspires to be prime minister, but settles for "Prime Minster", says @cpcdebate #macdebate pic.twitter.com/cBQhkJVbM4

— Godo Stoyke (@GodoStoyke) August 7, 2015
such leader

very prime

much minster

wow pic.twitter.com/pFHeEpi5Ow

— Allison Sparling (@Allisomething) August 7, 2015
.@DaveBeninger @CPC_HQ Prime Minster sounds so sinister though.... #macdebate

— Bobbi Cullum (@RealTurkeyLady) August 7, 2015
A Minster is a fancy church so I guess a Prime Minster is a really fancy church. #elxn42 #macdebate #proofreading

— Elaine MacDonald (@emdtoronto) August 7, 2015
Picking Mulcair and May as the winners here. Our soon to be former Prime Minister, sorry, Minster, got his ass kicked. .@CPC_HQ #elxn42

— Quinn Donovan (@qdsworld) August 7, 2015
The flub echos a typo made by then-Republican presidential candidate Mitt Romney in 2012 when the party misspelled "America" as "Amercia."
Romney's press secretary owned up to the flub at the time by saying, "Mistakes happen."
Also on HuffPost
Most Ridiculous Newspaper Typos