TORONTO — Liberal Leader Justin Trudeau could be asked Thursday what his acceptable per cent for a Yes side win in a referendum on Quebec's sovereignty would be.
A senior NDP source said that if Trudeau wants to attack NDP Leader Thomas Mulcair over his 50-per-cent-plus-one position, the Liberal leader should be asked what he believes would be an acceptable margin for the federal government to begin negotiations for Quebec to secede from Canada.
UPDATE, 11:45 p.m. ET: During the debate, Mulcair repeatedly asked Trudeau to give "his number" after the Liberal leader challenged him on the NDP's Sherbrooke declaration.

"What's your number Justin?" Mulcair asked.

Trudeau responded his number was nine: "Nine Supreme Court Justices said one vote is not enough to break up the country."

Mulcair wasn't satisfied. "He won't answer. He won't give a number."

Harper interjected and said that he, like Trudeau, also questioned why Mulcair was bringing up a debate over the Clarity Act "other than to satisfy the separatist elements within the NDP in Quebec."

Quebecers had massively rejected that agenda, Harper said, and nobody wanted to revisit the issue. He also declined to give his precise number.

"What happened in 1995, we don't want that to happen again, where they tried to get 50 per cent plus one by invalidating a whole bunch of federalist votes. So I do thing we need to look very carefully at that, if we ever have that problem again," Harper said.

Mulcair kept asking Trudeau what his number was. Trudeau responded that Mulcair's policy was "not worthy" of the job he was aspiring to.

"No prime minister should make it easier for Quebec to separate from Canada, Mr. Mulcair."
"If he says, say 60 per cent, he'll be crushed in Quebec," The Huffington Post Canada was told. "Trudeau should be asked on the campaign every day what his number is."
Asked to comment Thursday, NDP spokesman Brad Lavigne said: "The campaign does not have any comment on that issue today."
Trudeau is an outspoken supporter of the Clarity Act, legislation that was passed after the squeaker 1995 referendum, which the No side won with 50.58 per cent. Many believed the question Quebecers had been asked — "Do you agree that Québec should become sovereign, after having made a formal offer to Canada for a new economic and political partnership, within the scope of the Bill respecting the future of Québec and of the agreement signed on 12 June 1995?"— was unclear. The federal government sought advice from the Supreme Court then passed legislation in 2000 that outlined how Parliament would deal with any future efforts by Quebec to secede.
The Clarity Act states that Ottawa will not negotiate with a province seeking sovereignty unless the referendum question is clear and expressed by a "clear majority." What that majority should be is not defined by the Supreme Court, but the law states that the House of Commons would decide, after the fact, whether there was a clear will expressed by a clear majority, by considering these factors:
(a) the size of the majority of valid votes cast in favour of the secessionist option;
(b) the percentage of eligible voters voting in the referendum;
(c) any other matters or circumstances it considers to be relevant.
Mulcair is a staunch supporter of the NDP's Sherbrooke declaration, which was drafted under the backdrop of the sponsorship scandal and designed to appeal to Quebecers in order to increase the NDP's popularity in the province.
The Sherbrooke Declaration outlines the NDP's recognition of Quebec's right to self-determination but says that this right can also be exercised within Canada. "The NDP hopes for and will promote a united Canada," the document states.
The NDP would respect the Québec Referendum Act and scrap the Clarity Act. "The NDP would recognize a majority decision (50% + 1) of the Québec people in the event of a referendum on the political status of Québec," the declaration says.
The NDP says Quebec's National Assembly would write the referendum question and the citizens of Quebec would be able to answer it freely. It would be up to the federal government to determine its own process, in the spirit of the Supreme Court ruling, to respond to the result of the referendum, the NDP document states.
While the Clarity Act is popular in English Canada, it is not with francophone Quebecers. The Liberals accuse the NDP of pandering to sovereigntists for votes. The NDP, in return, accuses the Liberals of making a big issue out of it to win votes in Ontario.
In June, as he has in the previous months and past few years, Trudeau attacked Mulcair for wanting to repeal the Clarity Act and "making it easier to break up the country."
Wednesday evening, Liberal incumbent candidate Marc Garneau tweeted that he is "looking forward to hearing why @ThomasMulcair thinks it should be easier to break up the country."
Garneau linked to a video from November 2013 in which Mulcair says he looks forward to wiping the floor with Trudeau in a debate on national unity.
"Anybody who tells you because they've got a bill on so called clarity, that has no number in it, that has no question in it, theirs is anything but clear, ours is. And I'll stand by that, and I'll debate that with anybody, any time, and I look forward to debating that with Justin Trudeau in 2015. And I know exactly what is going to happen – I'm going to wipe the floor with him."
Mulcair has said thinks the Liberals' position — once backed by NDP leader Jack Layton — on the Clarity Act is anything but clear and could actually encourage more Quebecers to vote Yes in a referendum.
In his book, Strength of Conviction, Mulcair describes riding in his van with a Ford service representative who told him that after the rejection of the Meech Lake Accord, if Quebecers voted No in the 1995 referendum, the rest of Canada would think Quebecers were a bunch of idiots. (The term used was actually "ti-counes" which Mulcair translates as "pushovers" but it's a bit stronger than that).
"Randomly insisting on a margin of 60 or 65 per cent only for the 'Yes' side, as some have suggested, is not only unrealistic and dishonest but demonstrably unfair and disrespectful of people's democratic rights," Mulcair writes. "One side is essentially telling the other, 'If we get over 50 per cent we win, but if you get over 50 percent — or anything less than 60 or 65 percent — we still win.' A classic case of 'Heads I win, tails you lose.'
"People have to understand that a Yes result changes everything and brings with it uncertainty and turmoil."
"Leaving the lure out in the country that it would require a super-majority as high as 60 or 65 percent for Québec to secede would encourage voters to believe that they could use their vote to 'send a message,' to show that Québec couldn't be messed with, and maybe force the feds to offer a better deal," he writes. "Some say it would be unthinkable to let the country break up on a vote of 50 percent + 1. I say it would be unconscionable to let our relationship as Canadians degenerate that far."
Mulcair also states that in his heavily multicultural and federalist provincial riding of Chomedey, 5,426 ballots were rejected by government scrutineers during the 1995 referendum. He writes the "strange anomaly" was never thoroughly investigated or prosecuted despite his best efforts.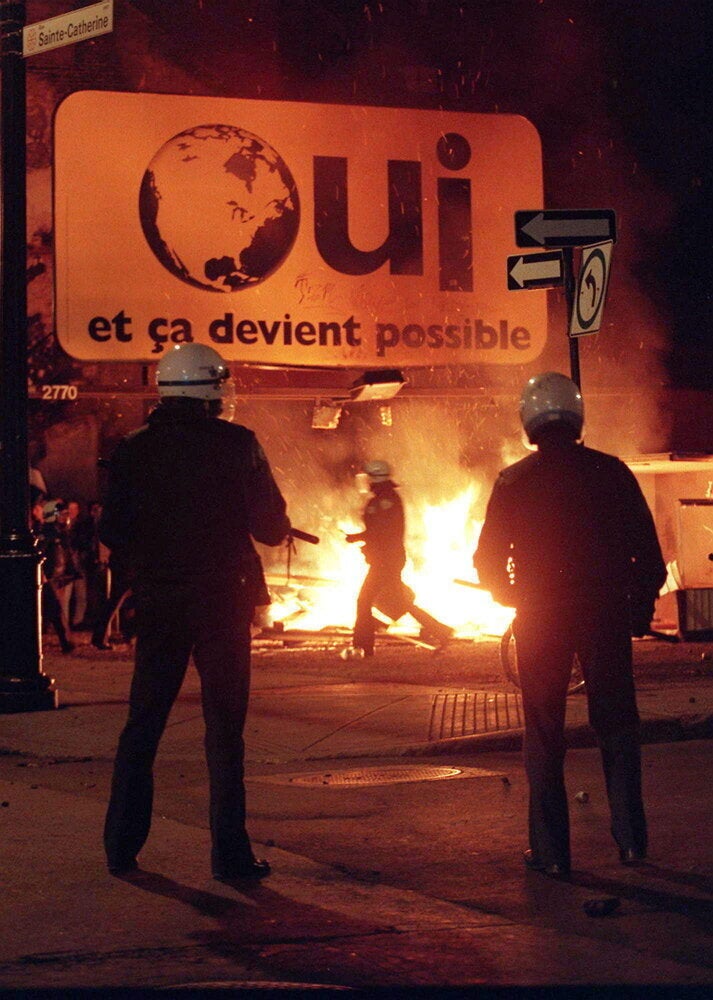 FLASHBACK: The 1995 Quebec Referendum