The CN Tower just made it possible for everyone to live on the edge of one of the world's tallest structures.
Canadian Paralympian Rick Hansen, Olympic athlete Alexa Komarnycky and Paralympic medallist Carla Qualtrough were on hand to unveil a wheelchair accessible EdgeWalk ahead of the Parapan Am Games opening ceremony on Friday.
"As an iconic Canadian landmark, it's great to see the CN Tower use their partnership with the TORONTO 2015 Pan Am/Parapan Am Games as an opportunity to work towards creating a world without barriers," he said in a news release.
"Creating a thrilling experience like the EdgeWalk, making it accessible to people with visual impairments and now launching the accessible wheelchair EdgeWalk, demonstrates the great steps being taken for people of all abilities to show that anything is possible."
Hansen himself posed for a photo in theEdgeWalk that was tweeted on Friday.
The EdgeWalk is a popular attraction that allows participants to harness themselves to the tower and walk around the roof of its restaurant, at a height of 356 metres.
The CN Tower is making it accessible for people with disabilities with a specially-designed wheelchair that has its own attachment to the EdgeWalk system, as well as a walking suit that has been "adapted for ease of dressing."
Anyone who wishes to take the accessible EdgeWalk has to be able to move from their own wheelchair to the specialized one independently, as well as move around the roof on their own.
This isn't the first time that the CN Tower has featured as part of the games.
The Pan Am opening ceremony saw Olympic gold medal-winning track athlete Bruny Surin hand the games torch to Canadian legend Donovan Bailey, who then base-jumped off the tower and descended into the Rogers Centre.
The new EdgeWalk is sure to be a great thrill to all who can access it now.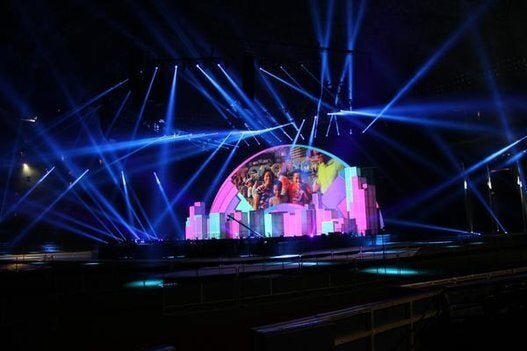 Pan Am Games 2015 Closing Ceremony Photos