TORONTO — If Stephen Harper is afraid of a Liberal-NDP coalition, he isn't saying so.
Thursday's debate was surprisingly void of the type of boogeyman coalition talk that Harper had used in the last leaders' debate during the 2011 election.
Maclean's moderator Paul Wells asked Green party Leader Elizabeth May if she thought the parties would be heading towards a coalition if there was no majority after the next election.
May said her party would work with others to make Parliament work, just as the Liberals under Lester B. Pearson and the NDP under Stephen Lewis had worked together to bring in Canada's social safety net.
"I can't tell you how committed Green MPs as a caucus will be to working with other parties, working across party lines to ensure that we go from a precarious, perhaps two-year minority Parliament to a steady, stable, productive, effective Parliament," May said.
But the discussion ended there.
It was a stark contrast to the last leaders' debate when the Conservative leader told Canadians he needed a majority to stave off a "reckless opposition coalition."
Harper said at the time that Canadians needed to understand that unless they elected a stable majority, then-Liberal leader Michael Ignatieff would form a coalition with the NDP and the Bloc Québécois.
"They tried it before. It is clear they will try it again," he said at the time.
In 2008, the Liberals, NDP and Bloc tried to defeat Harper's newly elected Conservatives after he brought in a budget update that had no measures to deal with the global economic crisis and instead attempted to starve opposition parties of their public funding. Harper avoided a confidence vote by convincing the Governor General to prorogue Parliament.
The 2011 leaders' debate was full of accusations and counter-accusations about the legitimacy of coalitions — Harper argued they were not, although they are perfectly legitimate — and jabs about who had tried to start them.
Bloc Leader Gilles Duceppe accused Harper of wanting to form his own coalition with the Bloc and the NDP. Duceppe, Harper and then-NDP leader Jack Layton had met in a Montreal hotel room and penned a letter to then-Governor General Adrienne Clarkson telling her that if then-Liberal prime minister Paul Martin lost the confidence of the House of Commons, she should consult them on "other options" if she didn't want to call an election.
"Obviously, the other options were what? Jack Layton would run 20 members as prime minister? Certainly not. Gilles Duceppe as prime minister of Canada? Certainly not, I'm sure of that. The only option was you," Duceppe said, pointing his finger at Harper.
"You finished second, and you wanted to be prime minister."
Liberal Leader Justin Trudeau and NDP Leader Thomas Mulcair have both been asked several times if they would contemplate forming a coalition. The two have been clear that there will be no formal arrangement before an election, but they are less forthcoming about possible cooperation after the election results are in.
So why did Harper avoid mentioning it Thursday?
Frank Graves, the president of polling firm EKOS, thinks the subject of a coalition is far less toxic than it used to be. Recent surveys suggest Canadians are not only open to the idea but many would prefer it.
A Forum poll released to the Toronto Star last Friday suggests that about half of all Canadians would be open to a coalition, including 75 per cent of NDP supporters and 68 per cent of Liberal backers. The results were based on telephone surveys from 1,397 adults and are considered accurate plus or minus three percentage points, 19 times out of 20.
It is in line with other Forum polls on the subject, which have suggested the vast majority of Liberal and NDP voters would be open to a coalition if the Conservatives were re-elected with a minority.
"This is something that is really different than what we saw last time," Graves told Evan Solomon on SiriusXM's "Everything is Political" show Thursday.
"By an overwhelming margin, people say I would prefer a coalition, they say that whether they are NDP supporter, or Liberal supporter or Green party supporters, and they say that regardless whether the leader would be Tom Mulcair or Justin Trudeau," he said.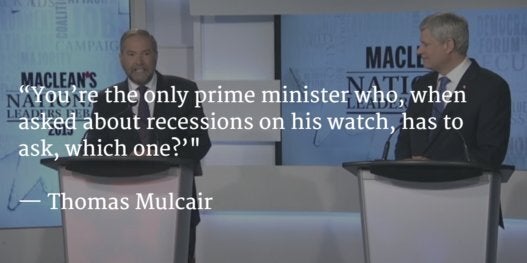 Best Quotes From Maclean's Canada Election Leaders' Debate