They're brothers, and apparently, partners in crime.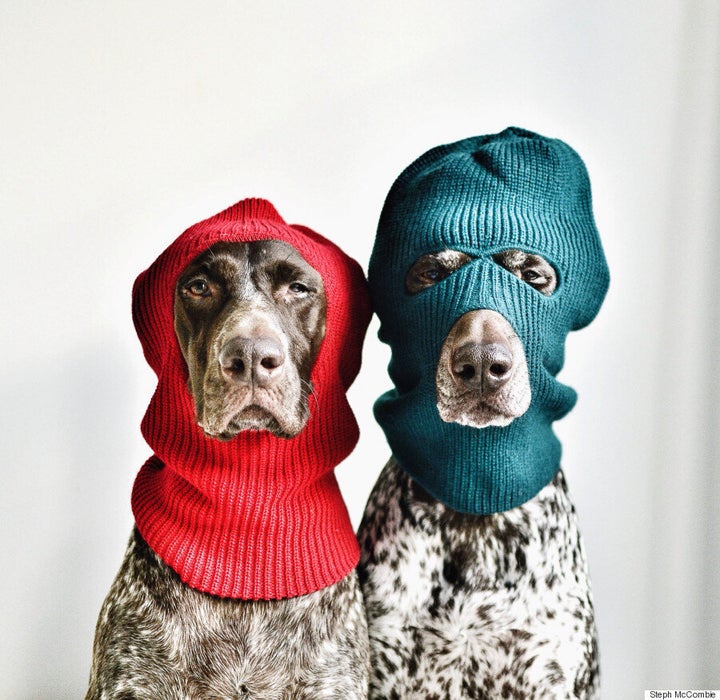 Gus, left, and Travis, right.
The two German Shorthaired Pointers aren't actually related by blood, but they might as well be. They were both adopted by Steph McCombie as rescues — Gus from a shelter, and Travis from foster care.
Gus was nine months old and just days away from being euthanized when McCombie rescued him, and Travis was 10 years old when his previous owners gave him up.
Once they were in McCombie's Vancouver home, the new brothers grew close.
McCombie started documenting their lives on Instagram, through the "If It Wags" account. She often dressed the pair up in costume and posed them together, which made for some incredibly endearing photos, to say the least.
"The Pointer Brothers" became an online sensation, amassing nearly 190,000 Instagram followers in about two years.
Sadly, the duo was separated when Travis died last month after a short battle with cancer.
As our HuffPost B.C. Photographer of the Month, McCombie tells us how the family — and photography project — is moving forward without him, and the plan to honour his memory with a project that will help rescue dogs everywhere.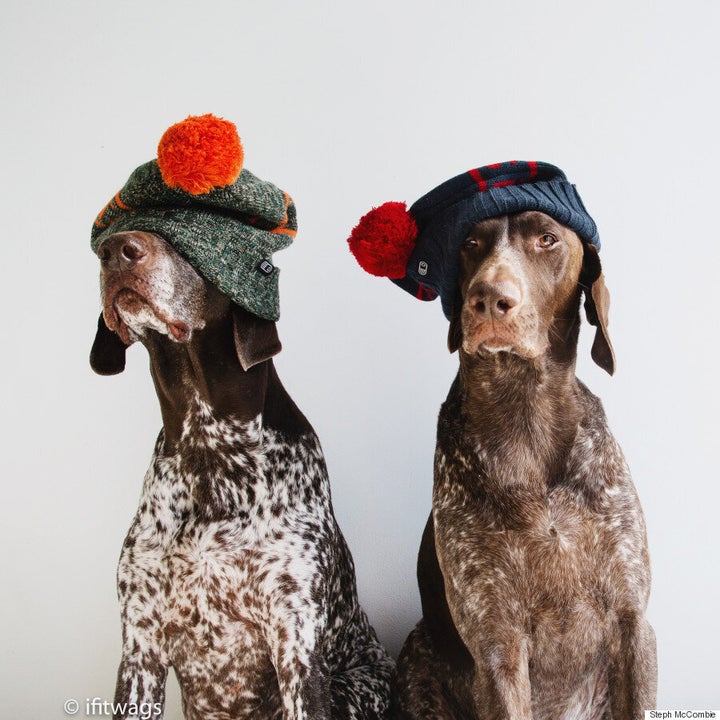 Q: How would you describe Travis and Gus?
A: Travis was a gentleman, a protector, and the best cuddler. He slept in the funniest positions and loved to be buried under the covers. He hated getting wet and lived for dinnertime. I miss him.
Gus is an athlete, he's sensitive and he snores really loud. He dances around with a shoe in his mouth when you come in the door.
My dogs are my family. They are so full of joy, they've taught me to be grateful for each day. Travis was so in tune with me and my feelings, he was my rock, full of love and a master of bed hogging, his favourite thing was to be on his back, under the covers. Gus lives for being outside, chasing birds, running, swimming, playing he has kept us going through the tough times with Travis.
Q: What is it about them that makes people want to follow their lives online?
A: I think the boys are easy to fall in love with. They have hilarious facial expressions and are so full of personality, but I think Instagram featuring our peanut butter series hashtag on their blog is what really kicked things off.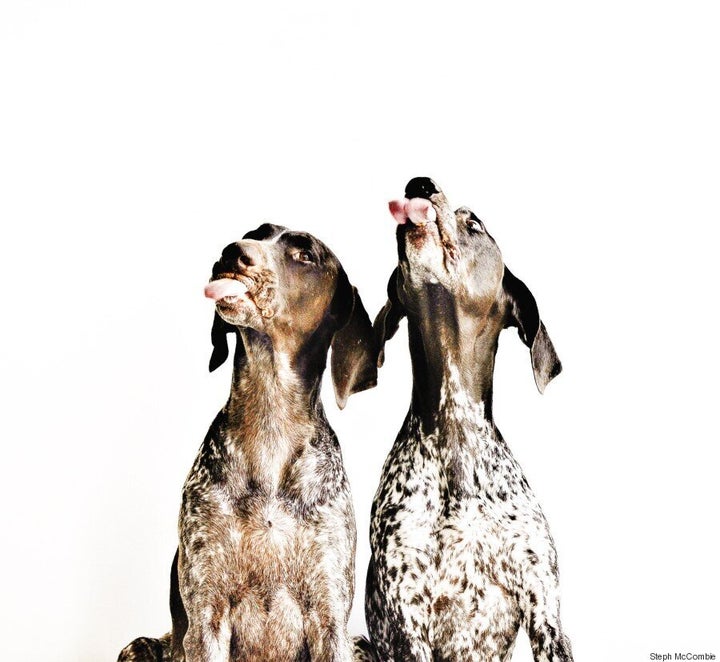 Q: Can you pick a favourite photos of the pair?
A: I have many favourites, all for different reasons, but right now this one is very special to me. Travis was diagnosed with cancer at the end of June and declined very quickly. This is a photo of him and Gus snuggled up on the couch on one of his "down days." Gus climbed beside him and just seemed to give Travis comfort and they both fell asleep.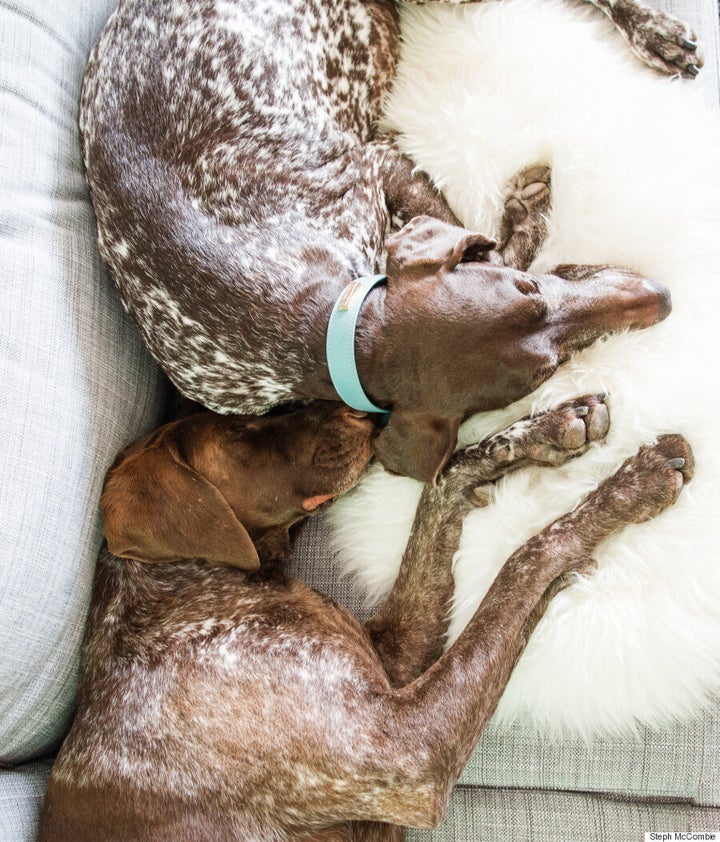 Q: Highlight of your photography career?
A: Honestly, it's the community. The support I've had after the death of Travis has been unbelievable. The love and messages I've received have turned something so sad and awful into something so heartwarming. I've had 10 different people tell me that Travis is the reason they rescued a German Shorthaired Pointer!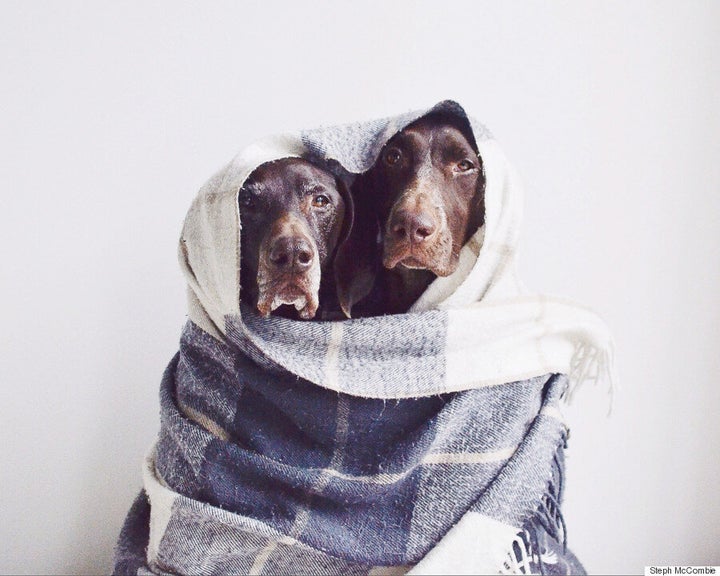 Q: What was it like for you and Gus, going through Travis' cancer journey?
A: I think it taught us to appreciate what we have, and to live for each day. It made our family bond stronger as we all had to pull together for Travy. As sad as it was, I am so grateful that we got to spend that last month with him and tell him how loved and special he was. We also got to spoil him rotten — pancakes and bacon for breakfast, lamb sausages for lunch, and bbq'd pork chops for dinner.
After Travis passed, my partner Josh and I wanted to do something for dogs in his honour. So last week we picked up four shelter dogs in Washington and drove them to a rescue in Vancouver, where they have a better chance of being adopted. We are fostering one of them, and her name is Gertie.
Q: What are your plans with If It Wags going forward?
A: I want to bring more awareness to dog rescue. I think the next thing will be a coffee table book... dedicated to Travis with proceeds going to dog rescue. I want people to see how amazing rescue dogs are.