TORONTO — Any nerves Liberals had before the Maclean's leaders' debate on Thursday were replaced with relief after party leader Justin Trudeau stood his ground in the two-hour showdown.
Approximately 200 people who packed a community hall in the riding of Eglinton–Lawrence Friday morning were all smiles.
Facing off against NDP Leader Thomas Mulcair, Conservative Leader Stephen Harper and Green Leader Elizabeth May, Trudeau surpassed expectations and delivered what his team was hoping for – a performance that they believe proves he is ready to lead the country.
"I was nervous going in, because anything can happen in a debate," Liberal incumbent candidate for Spadina–Fort York Adam Vaughan told The Huffington Post Canada. "But he stepped up right from the get-go and took the fight the whole way through. I think you couldn't have asked for a better outcome."
Trudeau went toe-to-toe with the other leaders, had presence and defended the Liberal platform, Vaughan said.
"I think what Canadians saw was a guy … who is not like the ads have been saying, he is ready. And that changes the whole conversation at every single doorstep."
If constituents are skeptical, Vaughan – who is in a tough battle against former NDP MP Olivia Chow – suggested he is now armed with new material to convince them otherwise.
"Go look at the debate and tell me if you think the ads are true. None of the things Harper said were true, and the ads aren't true either," he said. "I think you have a young, strong leader who is now moving into his own at the right time, when the campaign takes off. It's great!"
When asked to comment whether he thought his debate performance would help improve Liberal fortunes, Trudeau declined to answer.
"My focus is not on anything other than putting the right message out, the strong plan, connecting with Canadians and showing Canadians that better is always possible," he said to loud applause.
The Liberals are currently sitting in third place in opinion polls. According to the CBC's poll tracker from Aug. 2, the Liberals have 25.9 per cent of support, the Conservatives have 30.9 per cent, and the NDP lead with 33.2 per cent.
Yasmin Ratansi, a former Liberal MP and current candidate for Don Valley East, told HuffPost she doesn't trust "a single poll." People respond to polls based on what is fed to them, and what was fed to them were Conservative attack ads portraying Trudeau as not being ready to lead, she said.
Trudeau was always a fighter, she added. "Harper's negative ads had lowered everybody's expectation, and I think it backfired on Harper."
He did a "fantastic job," Ratansi added, showing the distinction between the Liberals and NDP on issues such as the Clarity Act and the New Democrats' $15-an-hour minimum wage pledge for federal employees.
Carolyn Bennett, the Liberal incumbent for St. Paul's, told HuffPost there was a time when other Grit candidates were concerned that people wouldn't understand what "an amazing leader Justin really is." But Thursday, she said, Trudeau's performance was spectacular. "We were all ecstatic. I don't think it could have been better…. It was masterful."
Eglinton–Lawrence candidate Marco Mendicino said he thought Trudeau had given some "schooling" to Mulcair and Harper.
His aunt Esther said Trudeau "presented a mature person."
"I liked it at the end when he came and told us he has been ready," her friend Umberto Pascali, said of Trudeau's closing remarks. "He has been ready for a long time. That was brilliant."
"He's good, he looks good, he has an important name," added Dina Buffone.
Gerard Poupée, acknowledging that the friendly Liberal crowd was, of course, going to think their man had performed well, was still pleased by Trudeau's performance.
"Debates convince only the already convinced," he said. "It doesn't change the dynamic — except that Justin showed that he was ready, that he has made progress … has a team behind him … and is ready for change."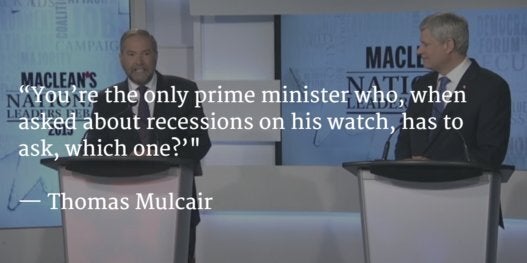 Best Quotes From Maclean's Canada Election Leaders' Debate