To appeal to girls' interest in STEM, MGA Entertainment launched four dolls to focus on each aspect of the field: science, technology, engineering and math.
Each doll in the line, known as Project Mc², comes with an experiment kit to inspire kids to play and learn. Experiments include creating lava lights, working volcanos, glow stick necklaces and blueprint skateboards.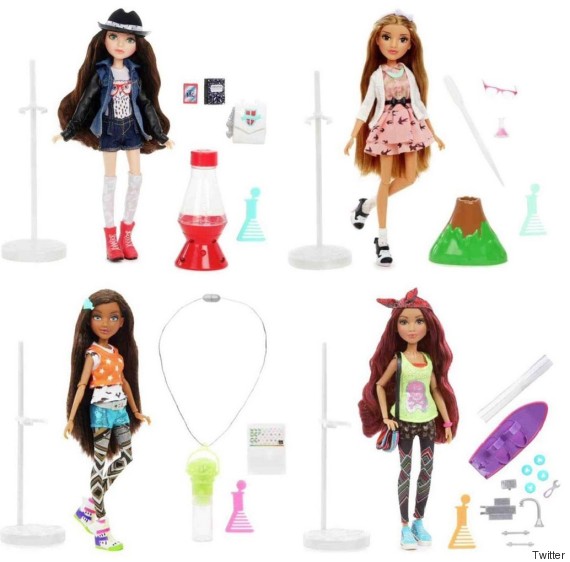 "The Project Mc² brand was developed in order to inspire girls that it's cool to be smart, leverage the growing trend of STEM," the toy company's CEO Isaac Larian told Mashable.
"We considered a variety of activities and projects that young kids enjoy in order to create an assortment of experiment kits that would pique children's interest, while infusing real science and meaningful technology and engineering play."
And to make the dolls even more appealing to kids, each was created to be different from each other, from their physical appearance to personality, and even their fashion sense.
"We wanted the characters to reflect what a real life group of friends would look like," Larian explained. "Each character is engineered to stand at a different height, has a unique face sculpt and represents a different cultural background."
My daughter (and I) are super stoked for the exclusive @Netflix_CA premiere of Project Mc2 on Aug 7th! #StreamTeam pic.twitter.com/cH1qHeBs7R

— Carol Gomez (@CarolAuCourant) August 5, 2015
My #STEAM girl LOVED our sneak peek of new show Project Mc2 premiering exclusively on @Netflix_CA Friday! #streamteam pic.twitter.com/vNlyyPBN66

— Don't Lick the Deck (@nerdgirlmom) August 5, 2015
In addition to the launch of Project Mc², a Netflix Original series of the same name will premiere on Friday. The show follows the four girls as they are recruited for a top-secret spy organization.
Project Mc² dolls are now available at Walmart, Target, Toys 'R' Us and Amazon.
ALSO ON HUFFPOST:
Fun STEM Activities For Your Kids