Prime Minister Stephen Harper's campaign is being criticized on social media after a bus with his name on it was seen parked in a Toronto bike lane on Thursday.
"She went up to the bus driver to ask if he could stop blocking the bike lane," the Reddit user told the network. "But the bus driver more or less told her to bug off."
This isn't the first time that a campaign bus has raised eyebrows during a Canadian election.
A picture of former Alberta Wildrose Party leader Danielle Smith on a campaign bus caused a stir ahead of the 2012 provincial election campaign.
Former Ontario Progressive Conservative leader Tim Hudak had his own transport trouble in 2011, when a campaign bus malfunctioned, The Globe and Mail reported.
The broken bus remained a secret until after the election. It later emerged that the PC party found a replacement bus — one that had been used by Las Vegas entertainer Wayne Newton, and that had a stripper pole inside it.
Michael Ignatieff, the former leader of the federal Liberals, encountered his own bus difficulties in 2010, right from the start of his campaign, according to the Winnipeg Free Press.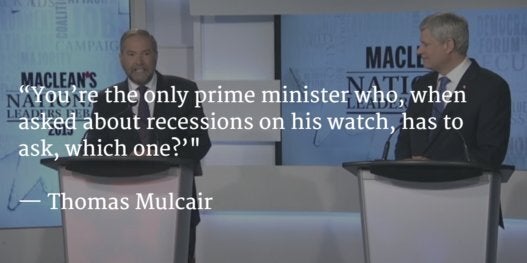 Best Quotes From Maclean's Canada Election Leaders' Debate