As Canada's federal leaders debated for the first time Thursday, 10 Republican presidential candidates — including polarizing businessman Donald Trump — squared off south of the border.
A new video shows the sharp differences between those two events.
Posted to YouTube by Hiveyivey2 on Thursday, the side-by-side comparison clip proves that things are considerably less, er, colourful up here.
The Canadian debate, sponsored by Maclean's and moderated by journalist Paul Wells, was a mostly respectful affair.
Conservative Leader Stephen Harper was challenged on his record by NDP Leader Thomas Mulcair, Liberal Leader Justin Trudeau, and Green Party Elizabeth May. All leaders were challenged on matters of policy.
Sure, there were a few zingers — including Trudeau telling Harper, more than once, that "nobody believes you." Yet, for those tuning in, substantive questions were answered on foreign policy, terrorism, the shaky economy, the environment, and the beleaguered Senate.
The American debate — hosted by Fox News and featuring a raucous audience in Cleveland, Ohio — had a different vibe.
At one point, the man currently leading the crowded GOP field was asked by moderator Megyn Kelly about past tweets in which he called women he doesn't like "fat pigs, dogs, slobs and disgusting animals."
"Only Rosie O'Donnell," Trump interjected, sparking laughter and applause. The billionaire went on to bemoan what he called the "big problem" of political correctness. More applause.
Barro said those vying to lead Canada discussed the "relative merits of competing policies, like balanced budgets and fiscal stimulus, without resorting to too much demagoguery."
He also lauded that Canadian leaders behaved "like adults who could civilly but sharply discuss their country's direction."
He ended his article by expressing hope that U.S. candidates can match their Canadian neighbours on the matter of substance.
"But for now, there is a large gap," he wrote.
So, well done, everyone. Well done.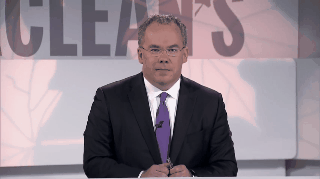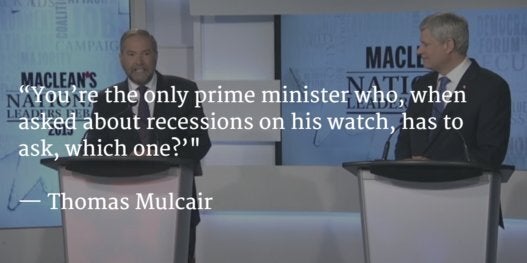 Best Quotes From Maclean's Canada Election Leaders' Debate