Kaitlyn Delano
To be completely honest, I don't remember most of my dreams. If I do they are either very strange or involve me meeting Drake (anyone want to start a social media campaign so I actually can?).
Dreamcatchers originated with the Ojibwe people and are hung to filter out bad dreams and only let good thoughts reach us. I grew up with one hanging in my window, and have always thought they were delicate and gorgeous.
With the few weeks of summer remaining, why not hang a dreamcatcher in your window and sport one on your nails to allow those good thoughts to reach your mind?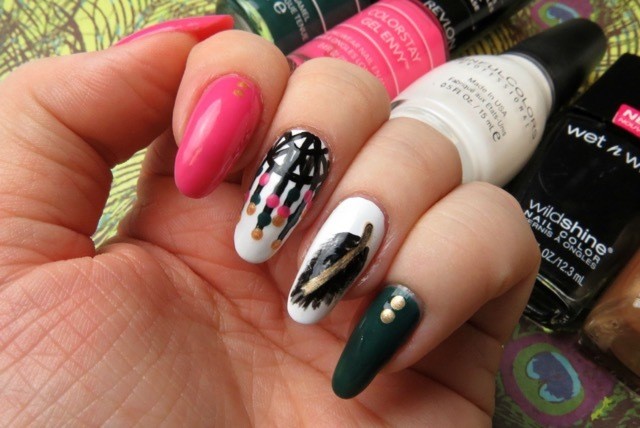 To begin this nail design, paint the index and pinkie fingers with the two accent colours of your dreamcatcher, and add gold dot details on each nail. This allows for the design to be cohesive. Paint the middle and ring fingers with a white polish (or another pale, neutral colour).
For the dreamcatcher:
1. Make a semi-circle about a third of the way down from the base of the nail using a black polish.
2. Create vertical lines of varying lengths from the semi-circle.
3. Make a smaller semi-circle closer to the base of the nail within the first semi-circle.
4. Make three lines in the semi-circles like you would if you were cutting a pie, and then make little lines between the small semi-circle and large semi-circle to create the woven details.
5. Using a dotting tool, create the beads with the accent colours used on the other two fingers and a gold polish.
For the feather:
1. Start with a curved gold line to serve as the backbone of the feather.
2. Create small lines in black polish all around the gold line.
3. Without picking up anymore polish, dry brush the black lines to create the feathered look.
4. Go over the gold line with the black polish and then again with the gold polish (this will give the feather more dimension).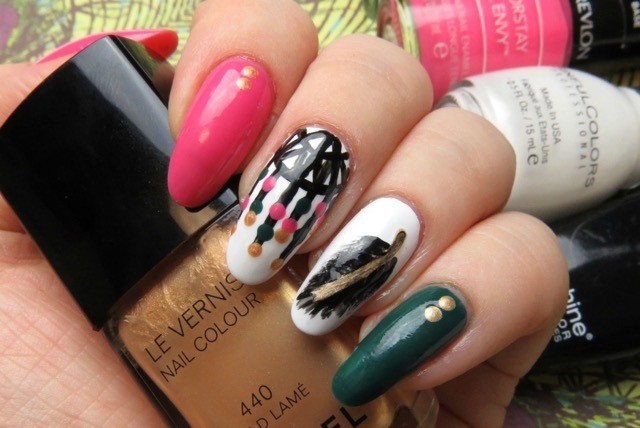 Allow the designs to dry for at least 10 minutes before using a top coat to prevent any bleeding or streaking.
Polishes Used: Revlon High Stakes, Revlon Hot Hand, Sinful Colors Snow Me White, Wet n Wild Black Crème and Chanel Gold Lamé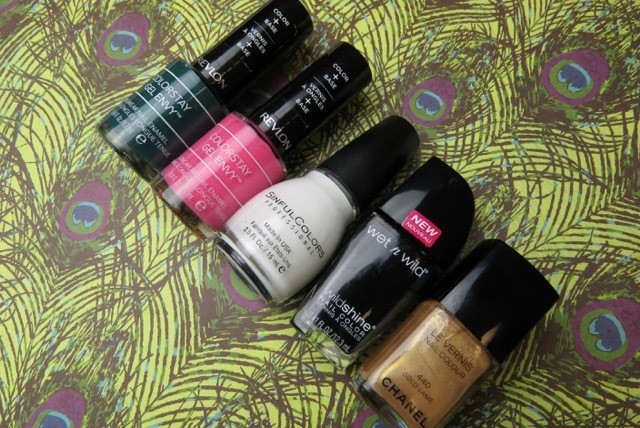 Kaitlyn Delano is a beauty blogger based in Toronto. You can find all of her Mani Monday designs on her blog, Kaitlyn Elisabeth Beauty.
Follow Huffington Post Canada Style on Pinterest, Facebook and Twitter!
ALSO ON HUFFPOST: