Stephen Harper suggested Monday that the way the Islamic State "televises" the murder of innocent people to try to reach a global audience is a kind of depravity unlike anything the world has ever seen.
Harper made the remarks at an event in Markham, Ont., where he announced that a re-elected Conservative government would welcome 10,000 additional refugees from Syria and Iraq over four years. A day earlier, the Tory leader vowed to make it a crime for Canadians to travel to parts of the world controlled by terror groups.
The Conservative leader defended Canada's mission against ISIS by saying that if left unchecked, the group will create "tens of millions of refugees and victims on a monthly basis." Both Thomas Mulcair's New Democrats and Justin Trudeau's Liberals voted against the mission.
"ISIS targets innocent men, women and children of the most vulnerable ethnic and religious minorities," he said. "We know this because ISIS brags about it.
"ISIS does not merely kill people and kill them in some of the most barbaric ways conceivable. It televises its murders to a global audience. This way of operating is virtually without precedent in the disturbing history of human atrocities."
Harper also criticized Mulcair and Trudeau directly for saying Canada should stick to providing aid.
"If your policy is humanitarian assistance without military support, all you're doing is dropping aid on dead people," Harper said.
In late June, the Tories released a video online featuring images and music from the very ISIS videos Harper alluded to Monday. The ad, meant to disparage Trudeau's position on the mission, showed images of prisoners about to be drowned in cages and decapitated through the use of explosive devices.
In a tense interview with Global News shortly after the clip was posted online, journalist Tom Clark asked Tory spokesperson Kory Teneycke if such images might contravene Bill C-51. The federal government's controversial anti-terror legislation made it a criminal offence to promote terrorism.
"Bill C-51 was brought in and promoted by your government… to prevent people from putting online anything that promotes terrorism and ISIS," Clark said. "Haven't you just done that?"
Teneycke replied that what the Tories were doing was no different than what is done by news organizations.
"But you're not the news. You're there advertising," Clark responded.
"We're better than the news, because we're truthful," Teneycke shot back.
The spokesperson maintained throughout the interview that Tories were trying to show a contrast between their position and those of Liberals and New Democrats.
"Will you be using more terrorist video as the campaign goes on?" Clark asked.
"Well, wait and see," Teneycke replied.
Watch the clip from Global News:
Green party Leader Elizabeth May – who also voted against Canada's combat mission – mentioned the ISIS videos during last week's federal leaders' debate.
"Why does this group of despicable thugs put their horrific acts on YouTube?" she asked. "Because they want to draw us into the region."
May added that by going in with a bombing mission, Canada could be helping ISIS "recruit."
With files from The Canadian Press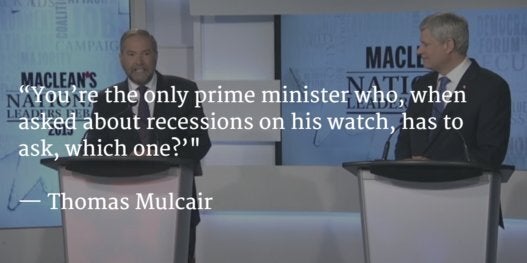 Best Quotes From Maclean's Canada Election Leaders' Debate