Former professional wrestler Trish Stratus is taking a stand against breastfeeding haters. After receiving backlash for posting a photo of herself nursing her 22-month-old son during an interview, the Canadian mom took to Facebook to school those who deemed the act "not right."
"I'm shocked by some of the negative comments I've read, telling me Max will have bullies after him because I posted that & that feeding a baby in public is not right. Really?? Do you eat in private only?" the 39-year-old wrote.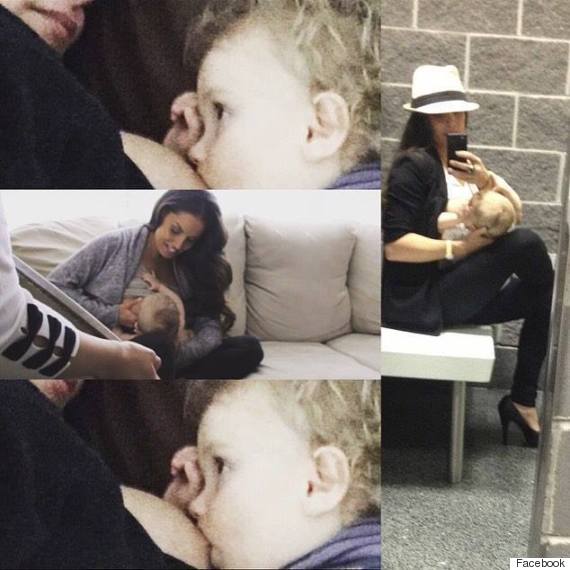 "Some mamas tuck away into a bathroom or the backseat of a car because people like that don't accept breastfeeding for what it is & mama feels she has to hide out to feed her baby!" she continued. "It's just messed up that we have to tuck ourselves away to give our child nourishment, if that nourishment is from the breast. Let me ask you – would you want to eat your lunch in the washroom?"
Stratus went on to explain that she has previously breastfed her son during both interviews and photoshoots. Referring to her interview with Entertainment Tonight, the former wrestler and model said, "Luckily no one batted an eyelash."
However, the 39-year-old notes that this kind of acceptance is not always the case for fellow moms and emphasized that "breastfeeding is a natural thing & workplace environments need to accommodate their working mamas!"
And if that weren't enough to school the haters, Stratus even reminded everyone that breastfeeding in public is legal in Canada under the Canadian Charter of Rights and Freedoms.
Stratus might as well have done a mic drop as she ended with this statement: "So to those who said it's not right – go eat your sandwich in the can & let me know how [satisfying] that is."
The former wrestler isn't the first celebrity to speak out about public breastfeeding. In the past, stars such as Blake Lively, Gwen Stefani and Olivia Wilde have taken to social media to support the cause, and many have even shared photos of themselves nursing their babies.
ALSO ON HUFFPOST:
Stunning Photos Celebrate Extended Breastfeeding