One woman is trying to prove that getting your period before a big event, like a marathon for example, shouldn't stop you from embracing your body's natural functions.
In a bid to fight period shaming and the secrecy often associated with a woman's monthly menstruation cycle, Kiran Gandhi, 26, ran a London Marathon in April without a tampon. The drummer, who toured with M.I.A and is also a recent business school graduate, has previously written about her bleeding free experience on Medium.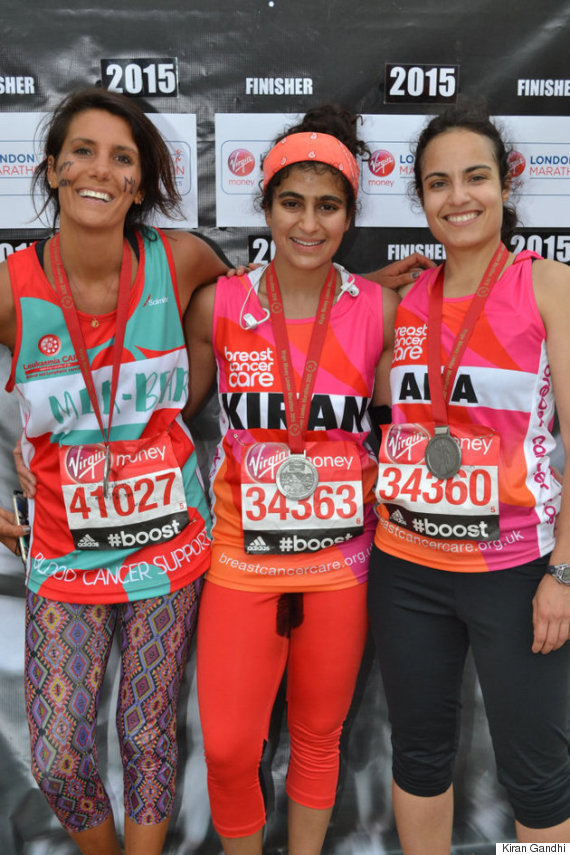 The blog, which breaks down her marathon into miles to the finish line, addresses issues of lack of accessibility to tampon or pads for some women around the world, the price of these sanitary products and how often women stay quiet about their periods in general.
"As I ran, I thought to myself about how women and men have both been effectively socialized to pretend periods don't exist. By establishing a norm of period-shaming, [male-preferring] societies effectively prevent the ability to bond over an experience that 50 per cent of us in the human population share monthly," she wrote. "Everyone was running for their own personal mission. And all of a sudden it felt entirely appropriate that I got my period on marathon day."
Earlier this year, Canadian spoken word poet Rupi Kaur made headlines after an image of a woman in bed with blood on her pants was removed from Instagram twice. The artist, who put together a photo series depicting her and her sister's menstruation cycles, also pointed out how communities often shun this natural process regularly.
And even though there has been mostly positive support for Gandhi's message, she told Buzzfeed News critics who are against her free-bleed don't bother her at all.
"I don't care if people want to make fun of me. I felt good doing it, it's my life, and it's my story."
ALSO ON HUFFPOST: