A day after telling the public the NDP pays all its employees the same wage, The Huffington Post Canada discovered the party advertised cheaper pay for French speakers.
The party confirmed on Tuesday it upped the hourly wage for a recent job posting after an ad offered non-English speaking campaign workers two dollars less than English speakers.
"The $17/hour wage is our writ-period election campaign wage offering," NDP spokesman Brad Lavigne said in an interview.
"There's no distinction between languages whatsoever."
But according to a cached page on the NDP website, the party was still advertising a job offering $15 per hour last week for French-speaking campaign workers — two dollars less than the rate being offered to English-speaking canvassers.
Lavigne explained the lower wage is the party's "pre-writ" pay for telemarketers.
But when asked why the $15/hour job ad was still on the party's website on the day of the leaders' debate — when the writ-period campaign was already underway — Lavigne admitted the posting was changed.
Here's how the ad looked on Aug. 6, offering $15/hour: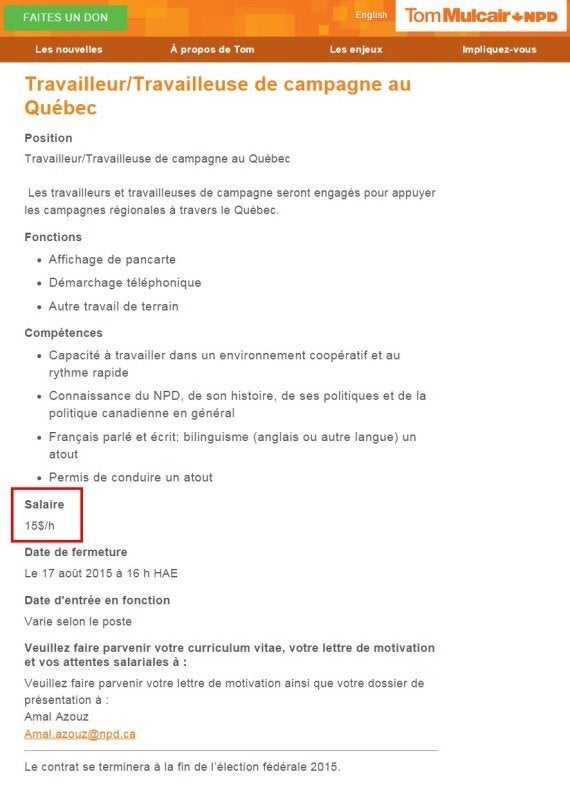 Here's how the ad appears now offering $17/hour: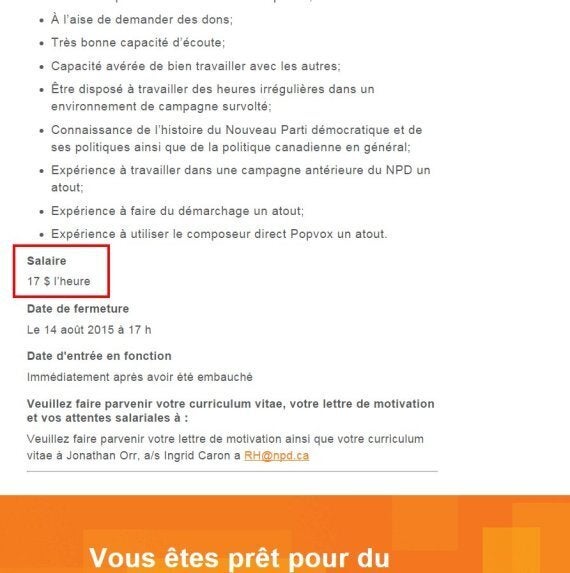 The posting was updated sometime between Aug. 6 and Aug. 11. Lavigne told HuffPost he did not know when it was changed.
On Monday, NDP Leader Thomas Mulcair responded to a controversy over a Craigslist job ad after the party was criticized for offering Punjabi speakers a lower wage than English-speaking hires.
"Our party did not post that ad," Mulcair said at a book launch event in Montreal. "The NDP pays all callers the same amount which is $17 an hour, English, French, Punjabi or any other language."
The NDP leader was responding to a question about a job ad reported by The Province offering $13 per hour to Punjabi-speaking canvassers — four dollars below what the party says is its standard $17/hour campaign pay.
Mulcair said the cheaper pay is subcontractor Express Employment Professionals' rate and not the party's.
"This apparently was a company hired by a subcontractor which in turn pays all of its callers $13 an hour," he said. "We pay $17 an hour. That's our rate. This company had no permission whatsoever to use the NDP's name."
That Craigslist ad, posted on July 24, has since been deleted.
But shortly after criticism from Conservatives, Liberals, and members of the public, the NDP reworked their pitch, clarifying the promise to be a "$15/hour federal minimum wage" versus "national."
With files from Althia Raj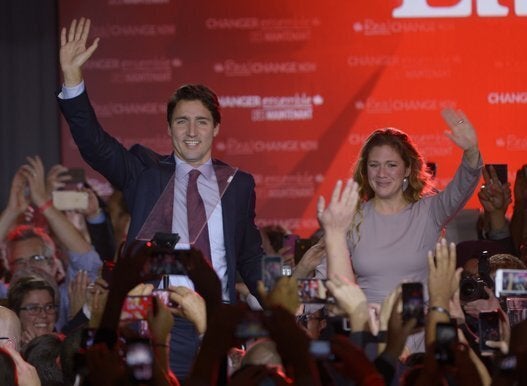 In Photos: Canada Election 2015