Dwyane Wade wants everyone to know he's super stylish, and if you don't like it, then you just don't get it.
The 33-year-old Miami Heat shooting guard teased a photo of himself from an Esquire magazine shoot, and it's caused the Internet to FREAK. OUT.
Check out the offending pic below:

The pic shows Wade wearing what appears to be a black, low-cut jumpsuit with a royal blue blazer worn as a cape overtop. A gold chain on his chest and luxe watch on his wrist complete the look. And judging by his caption (#ifyoucantpullitoffyouwontunderstandit), clearly D-Wade knew the confusion this ensemble would cause.
Some compared him to MC Hammer:
Bruh D-Wade Lookin like he tryin to be MC Hammer or somethin....stop Hammer Time 😂😂💀 pic.twitter.com/cNTL56PGqH

— Jordan (@jkellogg23) August 11, 2015
DWADE REALLY GOING HARD TO GET THE LEAD IN THIS MC HAMMER BIOPIC pic.twitter.com/IPbnXW67CG

— The Kid Mero (@THEKIDMERO) August 11, 2015
😭😭 RT @PoeticHeroin: Lmao RT @nick_pants: pic.twitter.com/nnytaQMrdA

— Blondٱรɦ (@MsMeeToo) August 12, 2015

Others thought he was chanelling Zoolander:
@DwyaneWade why you look like the black zoolander? pic.twitter.com/dn139DP8Ug

— Captain America (@Danny18Freitas) August 11, 2015

One got a magician vibe:
@BSO I already sent this to @DwyaneWade hahaha pic.twitter.com/uocz98i8rE

— Hero In A Half Shell (@Hale_O_Vision) August 11, 2015

While another got a "sassy vampire":
Ya man look like a sassy vampire pic.twitter.com/I2SrxfrGUH

— Grand Daddy Au Jus (@LunchLord) August 11, 2015

And everyone else was just plain confused:
I never thought I'd see the day that Dwyane Wade would be showing more cleavage than me. #esquire pic.twitter.com/zANtvttmIN

— Crystal Marie Denha (@IamCrystalMarie) August 12, 2015
WE HAVE TO STOP DWYANE WADE FOR GOOD http://t.co/fIuLjC7oCx pic.twitter.com/tqyX7cXGVK

— Ashley Nicole (@geeksandcleats) August 12, 2015
Cmon bruh wtf is this @DwyaneWade pic.twitter.com/8VXfutwxaj

— Sam (@SamRea14) August 11, 2015
Looking at that D-Wade pic like pic.twitter.com/liTWvztE8C

— Derval Fletcher (@ALG3nius) August 11, 2015
YOU JUST DON'T UNDERSTAND GUYS, OK?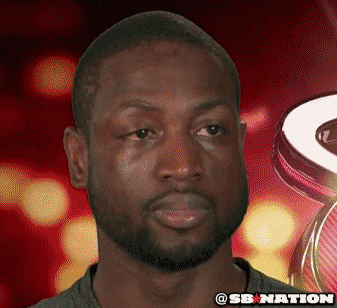 Follow Huffington Post Canada Style on Pinterest, Facebook and Twitter!
Also on HuffPost
Dwyane Wade's Fashion Evolution