Does Edmonton's "Big E" stand for "Excellent" or "Epic fail"?
Those are just two ways people have described a giant metal "E" that will make its way around Alberta's capital city as part of a branding campaign over the next few weeks.
The city asked engineer Jordan Tomnuk to build a striking design that people could look through, and he came up with the three-metre tall "E" made out of aluminum and LED lighting.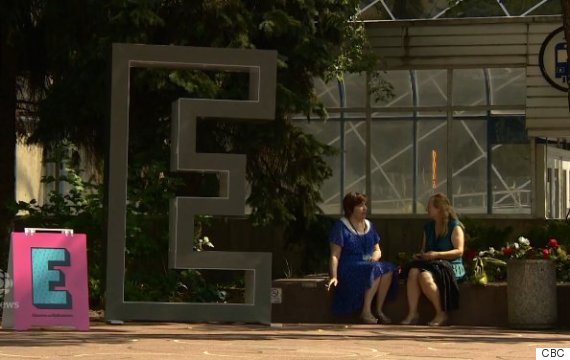 The goal is to create a visual icon to "engage and excite Edmontonians about all the construction, all of the transformational projects that are happening in our downtown," Mary Ann Debrinski, Edmonton's director of urban renewal, told CBC News.
It comes major changes are coming to Edmonton's downtown. The Katz Group recently unveiled its plans for the Ice District, a $601-million entertainment area that will include Rogers Place, the new home of the Edmonton Oilers.
The E's first stop in Churchill Square has drawn disparate reactions.
August 12, 2015
@MarkConnollyCBC Epic fail. Lived in #yeg for 48/49 yrs never heard it called "the big E"

— Dougster (@f_dougster66) August 12, 2015
@mattdance@MarkConnollyCBC@CBCEdmonton Then we could call the new arena the "I.D. in the Big E". Catchy, no?

— Sue (@Kira690) August 12, 2015
At least reactions look more promising for the big E — which cost $7,800 — than Calgary's giant O.
Taxpayers there were angered by a giant blue ring that was installed in the city for $471,000 in 2013.
It was dubbed the "Big O" and the "Big Zero."
Hey #YYC, every time you see the Big Zero, you can think of @Nenshi#PerfectTiming $471,000 #yycvote#Calgarypic.twitter.com/tnMFbq5Xci

— Why The Face (@WTF_Eh) October 9, 2013
Like Us On Facebook

Follow Us On Twitter

Also on HuffPost: