A Calgary teen remains paralyzed with "extensive permanent brain damage" after taking a pill he thought was OxyContin for the first time.
Anthony Hampton, 18, was rushed to the hospital last month after he was found in bed not breathing and turning blue, said his father, Reg Hampton. Paramedics were able to get the teen's heart beating again in the ambulance.
"He has a severe brain injury caused by lack of oxygen," said Hampton in an interview with The Huffington Post.
Hampton — a former TV reporter and anchor in Vancouver and Calgary — went public on Monday with an emotional Facebook post this week, chronicling Anthony's experience.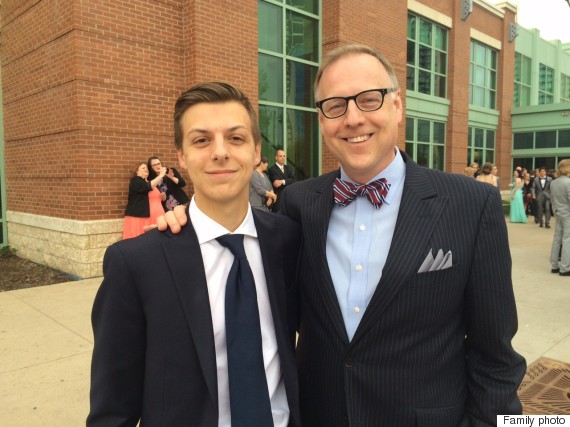 Anthony Hampton, left, poses at his high school graduation in May with his dad, Reg Hampton.
"We all blame ourselves. As a dad (and as someone in the news!) I feel as though I failed him," Hampton wrote. "How could he think it's okay to take a pill you buy off the street, especially with all of the terrible stories out there. But when you are 18 you are invincible and parents blow everything out of proportion."
Police who went through Anthony's cellphone text messages believe he was originally trying to buy pot, but the drug dealer didn't have any and suggested something harder. The teen ended up ingesting a powerful narcotic called fentanyl.
Anthony's acquaintance also took a pill — but suffered no ill effects.
Fentanyl — between 50 and 100 times more potent than morphine — is a white powder that's easily disguised and tough to expose, said Cpl. Luc Chicoine, the RCMP's national drug program co-ordinator.
A spike of fentanyl-related cases have been reported across Canada. In Vancouver, 16 people overdosed on Sunday alone — including six in one hour — from heroin that police suspect was laced with fentanyl.
On Tuesday, the BC Coroners Service said fentanyl was detected in at least 12 deaths in the past month. In Alberta, 145 deaths this year have been linked to the dangerous narcotic.
"There's a shock to us because we had no idea that he would even be interested in this," said Hampton, who added that the teen was caught experimenting with pot several months ago.
Anthony, who was to start culinary school at SAIT in Calgary, is now being fed through a tube and can move only his hands and feet.
"It's a cliché, you don't ever think it's going to happen to your family and then it does," Hampton, who is now the assignment editor for CTV Calgary, told HuffPost Alberta.
Hampton hopes that by sharing Anthony's story, other people will be warned away from trying street drugs: "Awareness has got to be part of the solution to this horrible thing."
"I've been so encouraged by how people are saying 'I made my teenagers read this' or 'I'm going to talk to my kids about this' and stuff like that. It means a lot and I know Anthony would want that as well," said Hampton.

"He's just a caring, outgoing guy who has a sense of justice in him. I think he would want to get the word out so that other kids don't do this."
Hampton said Anthony's "extensive permanent brain damage" means a long, unknown road of recovery: "He has to rewire what he's got and learn to work with what he's got."
Signs are encouraging as the teen is out of intensive care and is scheduled to move to a brain injury centre in two weeks.
With files from The Canadian Press
Like Us On Facebook

Follow Us On Twitter

Follow Us On Instagram
Also on HuffPost
Fentanyl In Metro Vancouver