Four humpback whales found dead within a week off B.C.'s central coast is worrying marine experts.
"A gentle giant has fallen," wrote Charles. "Here on the B.C. coast, we are truly blessed to spend so much intimate time with these magnificent and globally iconic creatures, humpback whales, experiences for which we are all truly thankful."
The grim discovery came six days after a smaller humpback was found dead near Haida Gwaii, according to the Globe.
Another two dead whales have been spotted floating in Hecate Strait and off the west coast of Vancouver Island, reported CTV News.
A necropsy has been performed on two of the four, and although it could take several weeks to find out just how they died, the string of deaths is worrisome.
"It's something we are concerned about," Paul Cottrell, who co-ordinates the B.C. Marine Animal Response Network for the Department of Fisheries, told CTV. "We're hoping we don't get any more."
Cottrell's department is now investigating if the animals' deaths are connected to those within Alaska's whale population over the past month, according to The Vancouver Sun.
No causes of death has been confirmed.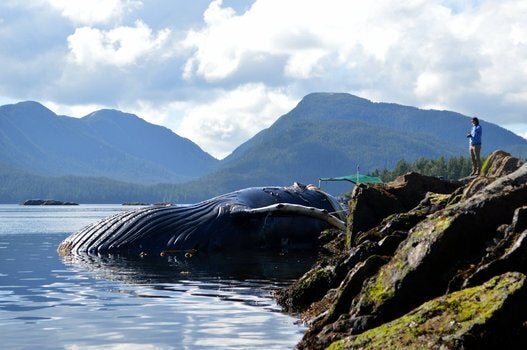 Dead Humpback Whale Off B.C. Coast