There's no denying it... Blue Jays fever has hit Toronto!
The Jays (64-52) extended their winning streak to 11 games after sweeping the Oakland Athletics Thursday afternoon with a 4-2 win at the Rogers Centre.
The win has the club sitting at the top of the AL East division with rivals New York Yankees (61-51) sitting one game back. The last time the Jays led the division this late in the season was back in 1993. Now, ask any die-hard fan (or Drake) what happened in 1993 and they'll tell you that's when the Jays won the World Series against the Philadelphia Phillies.
And while there's over 40 games left in the regular season, here are a few reasons why the Jays are red hot
The Jays' win over the Oakland Athletics on Aug. 12 made them the first team with two win streaks of at least 10 games in the same season. The last club who pulled this off was the Atlanta Braves back in 2013.
It also makes them the first American League club to accomplish this feat since the 1977 Kansas City Royals.
On Aug. 10, third baseman Josh Donaldson and starting pitcher David Price were named the American League co-players of the week.
Since acquiring shortstop Troy Tulowitzki, the Blue Jays have only lost once and that was on Tulowitzki's day off.
In short... GO JAYS! GO!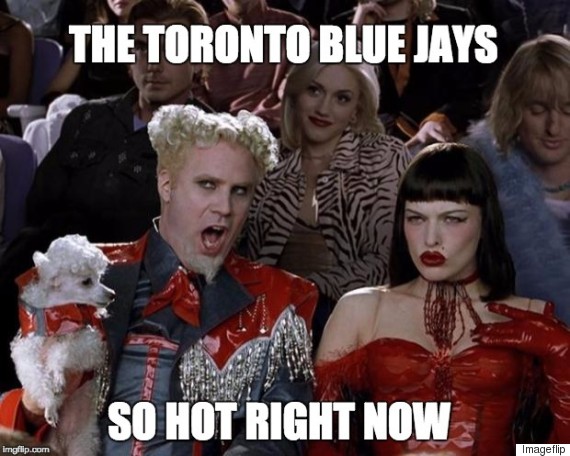 Also on HuffPost
PHOTOS: Wild MLB Celebrations