Norm/Twitter
One of the big hits of this summer's Pan Am and Parapan Am Games has been the multi-colour 3D Toronto sign located at Nathan Phillips Square.
It's inspired plenty of postcard-worthy shots like this.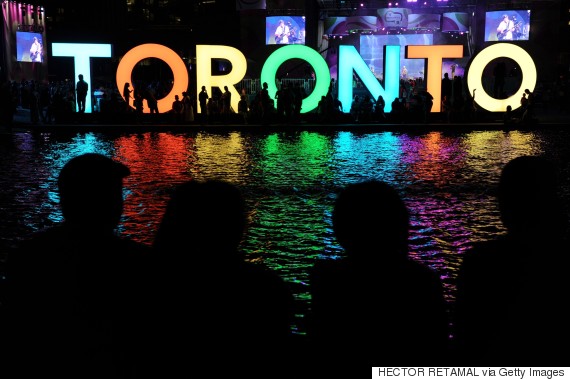 The popular sign got a temporary edit on Thursday morning and paid tribute to the best three letter name around.
ATTENTION ALL RON'S IN TORONTO: Now is your chance for an awesome picture! #TOpoli pic.twitter.com/ghZCE9HiGF

— Norm Kelly (@norm) August 13, 2015
Sorry Kims, Jims and Toms. The sign doesn't lie. Ron is totally the best nom around.
[Editor's note: The author's opinions are his own.]
Torontonians briefly panicked when they thought the beloved sign was being taken down but officials quickly clarified that the sign was just temporarily being moved for Saturday's closing ceremony of the Parapan Am Games and would be moved back to its original spot.
Oh no. pic.twitter.com/4xXVVwlrzg

— Jennifer Pagliaro (@jpags) August 13, 2015
City councillor Norm Kelly even tweeted a photo of the sign's temporary spot on the east side of the square.
Temporary resting spot for the 3D Toronto sign. It will return to the original spot after @TO2015 closing ceremony. pic.twitter.com/cnxsUuw3Lw

— Norm Kelly (@norm) August 13, 2015
CTV has a great timelapse of the letters being moved around like it was a giant game of Scrabble.

DETAILS: Giant 'Toronto' sign moved, letter-by-letter, from location in Nathan Phillips Square http://t.co/6LfL5E7xbn pic.twitter.com/dUKlk9NPRm

— CTV Toronto (@CTVToronto) August 13, 2015
The big TORONTO sign is coming down as staff prepare for the #TO2015 #parapan closing ceremonies. @CDNParalympics pic.twitter.com/rRVCCcdlVU

— Gaetan Tardif (@DrTardif) August 13, 2015
The sign will be in Nathan Phillips Square until the end of the year.
Also on HuffPost
Parapan Am Games 2015 Photos