Kevin Mazur via Getty Images
"Call Me Caitlyn." It was the headline that broke the Internet.
In the second and third episode of Jenner's new solo show "I am Cait," she is confronted by a group of trans women over the out-of-touch transitioning process her privilege has brought her. They share their stories and say that unlike them, she has never had to have awkward encounters with doctors for hormones, can easily pay for cosmetic surgery and does not have to turn to options like sex work to support herself.
Part of her privilege also comes from the clothing she wears. Like the rest of the Kardashian clan, Caitlyn Jenner's story is intrinsically tied to fashion; on the show, her BFF Rhonda also happens to be her personal stylist.
Jenner wearing a designer's piece can lead to a spike in sales and even spark trends. Many transwomen struggle to afford to pay for their clothing alongside hormones and surgery, while Caitlyn has designer wares literally thrown at her feet by Rhonda. From Versace to Alexander Wang, fashion houses have plastered images of her wearing their pieces across social media. Is this part of a larger movement towards transgender acceptance, or merely fashion marketers hopping on the bandwagon for some easy PR?
Positives signs include Apple Models Management, which received worldwide attention in July for becoming the world's first international modelling agency exclusively for transgender talent.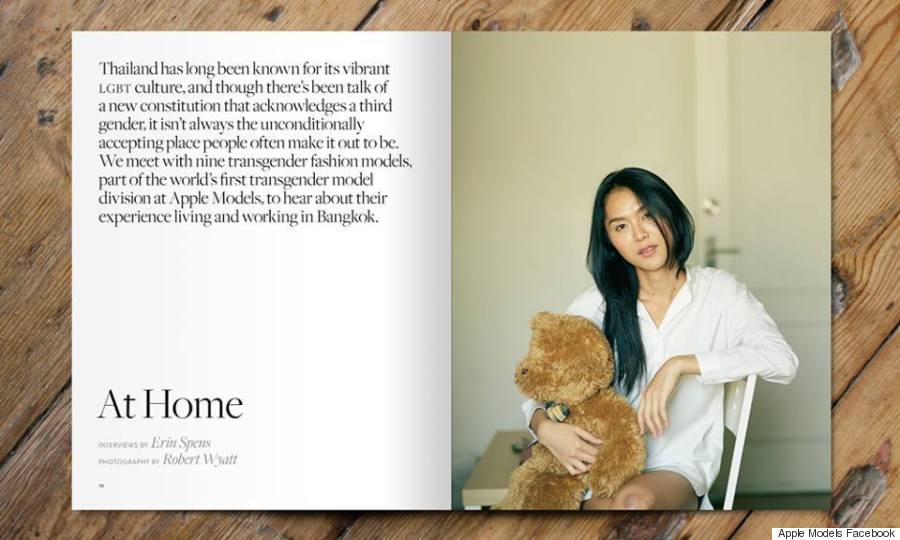 This follows closely in the footsteps of Gogo Graham, a New York City-based fashion line that recently celebrated its fifth collection dedicated entirely to trans women.
Transgender models like Lea T and Andreja Pejic have also exploded in popular awareness recently; breaking from being exclusively known in the fashion world and inching ever more into the pop culture zeitgeist.
Pejic was recently spotted on stage with Taylor Swift , received a cover story in the May issue of Vogue and became the first transgender model to be the face of a full cosmetics campaign, landing a contract with Make Up For Ever.
The campaign, titled "Be Bold. Be Beautiful. Be You.", sums up the 23-year-old Australian well. However, the industry was not initially as warm to the young model as it has been to Caitlyn Jenner. When she decided to transition, Pejic thought it would be the death knell for her professional life.

"They used to tell me that my career would probably end after I transitioned, and that trans women don't get respected in fashion as models," Pejic tells Style.com.
Interestingly, Pejic signed on to the campaign before Caitlyn Jenner came out to the world. While it may be kinder to say that Make Up For Ever was progressively choosing to advance the cause of transgender individuals, Pejic had been around for a few years already and was gaining attention on her own -- her selection could have been the brainchild of well-planned predictive marketing (read: the bandwagon).
Gender fluidity has not always been so welcome on the international scene. Toronto non-binary model and NORD Magazine Creative Director Myles Sexton has walked runways in both men's and women's clothing, to varied receptions.

"When I was modelling in Paris, I had the hardest time as a model that did both men's and women's wear," Sexton says. "I found out of all the places I have modelled, [the Parisians] were the least accepting to the idea. Whereas in Toronto at Fashion Art Toronto all range of designers -- from editorial to prom-style clothing -- booked me for their shows!"
The fact that retailers like Selfridges and Barney's New York (who last year did a catalogue featuring shots by Bruce Weber with almost 20 transgender people) have embraced trans models and unisex designs may be an early sign that larger brands believe they can enjoy marketing and monetary returns by not conforming to traditional gender binaries.
In reality, however, these campaigns are still relatively small. While Caitlyn Jenner may be bringing transgender rights into the mainstream, fashion in many ways is still treating the issue like a promotional tool.
In the same episode of "I am Cait," Jenner's trans friends recognize her position as the face of the movement. Caitlyn can capitalize on her power in the fashion world and use it as a tool to advance the rights of transgender people.
True acceptance in the fashion world will come from moving beyond tokenism and more towards raising funds and awareness for trans rights, as has been done for the fight against AIDS. In doing this, fashion can help all trans women have the support, medical assistance and respect from society that Caitlyn Jenner received during her transition.
Follow Huffington Post Canada Style on Pinterest, Facebook and Twitter!
ALSO ON HUFFPOST: