Stephen Harper insisted Sunday he "took action" once he learned that Sen. Mike Duffy used funds provided by Nigel Wright, the prime minister's former chief of staff, to repay questionable expenses.
But a quick look back to May of 2013, when news of Wright's infamous $90,000 cheque first broke, may paint a different picture.
All four questions Harper faced from reporters at an event in Ottawa Sunday dealt with the Wright-Duffy affair. The Tory leader said he would not "debate" the facts currently before the courts, but repeatedly asserted that he told Duffy to repay his unjustifiable expenses himself.
"When I found out that Mr. Duffy did not pay those expenses as he should have and that Mr. Wright paid those expenses instead, I held those two individuals responsible for their actions," he said.
Harper told another journalist he "always believed" Duffy should repay the money out of his own pocket.
"I was told that (Duffy) was paying (the expenses) back and had paid them back," he said. "And that's why I took the action that I did when I found out that was not the case."
The Tory leader later added that when he found out Duffy did not reimburse taxpayers with his own money, he "took action against the individuals who were responsible."
Harper has long maintained he knew nothing of the now infamous cheque. Wright's testimony last week appeared to back up that position.
But two years ago, the Tory leader expressed "full confidence" in his right-hand man even after learning about Wright's actions.
Here's how things looked in May of 2013...
May 14, 2013 – CTV News Reveals Wright Gave Duffy Money
CTV journalist Robert Fife breaks the news that Wright "secretly intervened" to help Duffy repay his expenses while an external audit was ongoing.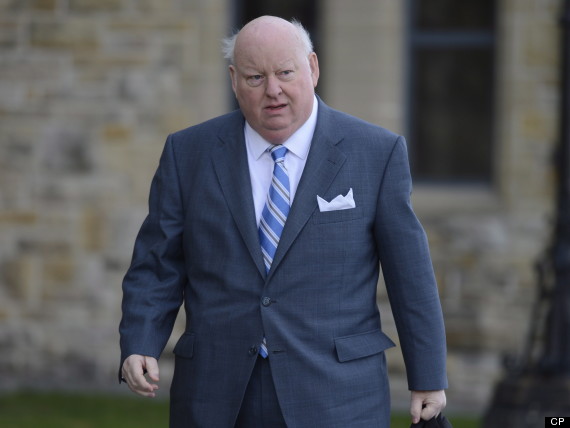 Photo credit: The Canadian Press
May 15, 2013 – Harper's Office Confirms Wright Cut Duffy A Cheque For $90,000
Harper's then-spokesperson Andrew MacDougall releases a statement saying Duffy agreed to repay his expenses, but "was unable to make a timely repayment."
"Mr. Wright therefore wrote a cheque from his personal account for the full amount owing, so that Mr. Duffy could repay the outstanding amount," the statement read.
May 16, 2013 – Duffy Resigns From The Conservative Caucus
Duffy quits the Tory caucus after The Canadian Press' Jennifer Ditchburn reveals he submitted travel expense claims to the upper chamber on days when he was campaigning for Tories in the 2011 election.
Also on May 16, 2013 – Harper's Office Expresses 'Full Confidence' In Wright
With the scandal heating up, MacDougall tells CBC News Wright "enjoys the full confidence" of Harper.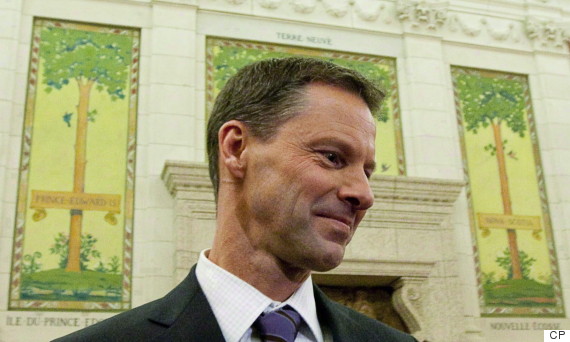 Photo credit: The Canadian Press
May 17, 2013 – Harper's Office Reiterates 'Full Confidence' In Wright
In a statement, MacDougall again says Wright isn't going anywhere.
"The Prime Minister had full confidence in Mr. Wright, and Mr. Wright is staying on," he said, according to The Toronto Star.
May 19, 2013 – Harper Says He Accepts Wright's Resignation 'With Great Regret'
Wright releases a statement announcing the prime minister "has accepted" his resignation as chief of staff.
From the statement:
My actions were intended solely to secure the repayment of funds, which I considered to be in the public interest, and I accept sole responsibility. I did not advise the Prime Minister of the means by which Sen. Duffy's expenses were repaid, either before or after the fact.

I regret the impact of this matter on the Government, our Caucus, and all of my colleagues, for whom I have the highest regard. I came to Ottawa to do my part in providing good government for Canada, and that is all that I ever wanted and worked for in this role.
Harper also releases the following statement:
It is with great regret that I have accepted the resignation of Nigel Wright as my Chief of Staff. I accept that Nigel believed he was acting in the public interest, but I understand the decision he has taken to resign. I want to thank Nigel for his tremendous contribution to our Government over the past two and a half years.
But things changed by October of 2013...
Oct. 28, 2013 – Harper Says He 'Dismissed' Wright
Harper contradicts what he said in May by telling radio station News 95.7 Halifax that he "dismissed" Wright for writing the cheque.
"I think the responsibility whenever things go wrong is for us to take appropriate action," Harper said, according to a transcript from journalist David Akin. "As you know I had a chief of staff who made an inappropriate payment to Mr. Duffy. He was dismissed."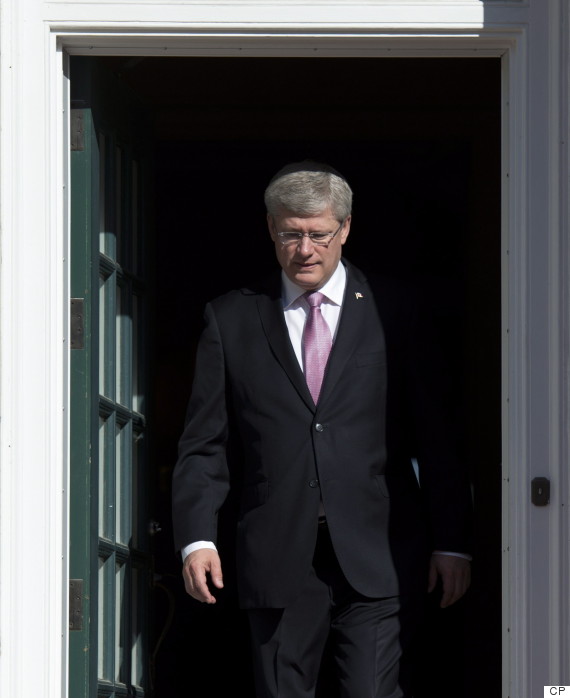 Photo credit: The Canadian Press
Oct. 29, 2013 – Harper Accuses Wright Of 'Deception'
Harper completely disowns his former top aide while under fire in question period.
"Mr. Speaker, once again, on our side there is one person responsible for this deception and that person is Mr. Wright, by his own admission," Harper said. "For that reason, Mr. Wright no longer works for us."
In November of 2013, the Conservative-dominated Senate voted to suspend Duffy, Pamela Wallin, and Patrick Brazeau without pay for the remainder of the parliamentary session. The suspended senators returned to the public payroll after Parliament was dissolved by the election call earlier this month.
On Monday, Wright will once again be cross-examined by Duffy's lawyer.
With files from The Canadian Press
Also on HuffPost
Nigel Wright Emails In Mike Duffy Case