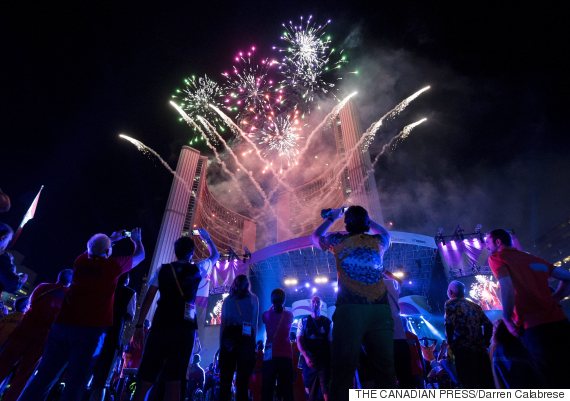 What a night, Toronto!
The 2015 Parapan Am Games and Panamania came to a close on Saturday night at Nathan Phillips Square, after eight days of inspiring sports competition. Thousands filled the square with incredible energy to celebrate the largest Parapan Am Games in history, with 1,600 athletes from 28 countries.
Toronto singer and songwriter Sean Jones opened the ceremony with a stunning rendition of "O Canada."
The crowd then danced and clapped along as Franco-Ontarian urban folk band SWING performed an energetic tribute to the athletes.
Clôture #parapanam: le groupe franco-ontarien SWING @legroupeswing ouvre les cérémonies #onfr #tofr #frcan #to2015 pic.twitter.com/e7Y8Ze25aW

— Etienne Fortin-G. (@EtienneFG) August 16, 2015
The performance was so catchy, in fact, that the athletes couldn't resist breaking out into a conga line.
Conga line courtesy of Brazil! #funtimeswithfriends #TO2015 Parapan Am closing ceremony:) https://t.co/BfIC17ov1p

— Pj Kwong (@skatingpj) August 16, 2015
Rugby star Zak Madell proudly carried the maple leaf for Team Canada, as flagbearers from each country bid a final farewell in the Parade of Nations. The 21-year-old wheelchair rugby player from Okotoks, Alta., led the Canadian team to a gold-medal victory over the United States on Friday, securing them a spot in the Rio Paralympics next summer.
Here we go!! #paratough #flagbearer #imnotcryingyourecrying @CDNParalympics @TO2015 pic.twitter.com/rDugGXsPCt

— WheelchairRugbyCAN (@WCRugbyCanada) August 16, 2015
Canada enters here at the closing ceremony, with the flag being carried in by Zak Madell #CBCPARAPANAM http://t.co/1VcceHlolQ

— CBC Sports (@cbcsports) August 16, 2015
Toronto2015 CEO Saad Rafi called the Games the "largest, loudest and best Parapan Am Games ever."
"In the past week, we've seen athletes from across the Americas demonstrate incredible courage, strength and athleticism, thrilling and inspiring fans," he said. "Tonight is about celebrating and thanking these athletes, as well as the people of the region who supported these Games, which will leave a legacy of not only sport, but diversity and inclusion, which will be felt for generations to come."
He also thanked the volunteers, who brought their "personality and energy."
Jose Luis Campo, president of the Americas Paralympic Committee, echoed Rafi's sentiments. "You have raised the bar for future organizers, and I have to say these have been the best Parapan American Games ever," he said.
To the athletes, Campo added: "You have entertained us with your high level performances, and shown that life is about maximizing ability and not perceived disability," he said.
The Americas Paralympic Committee flag was then lowered, and Toronto Mayor John Tory passed it over to Luis Castañeda Lossio, mayor of Lima, Peru, the host city of the 2019 event.
Toronto Mayor John Tory passes the Parapan Am flag to the Mayor of Lima, Peru, the 2019 host city #CBCPARAPANAM http://t.co/bu9cr04dR1

— CBC Sports (@cbcsports) August 16, 2015
Thank you #TO2015 athletes from across the Americas! You've brought out the best in our city, and your talent and courage inspired us all.

— John Tory (@JohnTory) August 16, 2015
Spoken word artist Mustafa the Poet extinguished the Parapan Am flame with a powerful poem, officially bringing the Games to a close.
The flame has been extinguished and the Parapan Am Games are officially closed #CBCPARAPANAM http://t.co/Ic1MS78IVb

— CBC Sports (@cbcsports) August 16, 2015
Later in the evening, Meghan Patrick, an up-and-coming country singer from Bowmanville, Ont. took the stage and pumped up the crowd before being followed by Grammy award-winning superstar, Wyclef Jean.
Jean returned to Nathan Phillips Square after opening Panamania last month. He got the crowd dancing, jumping and singing along to hits including Bob Marley's classic "No Woman, No Cry," Shakira's "Hips Don't Lie," and his own "Sweetest Girl."
Wyclef Jean performs at the closing ceremony #CBCPARAPANAM http://t.co/OBoQ5GW3Ic

— CBC Sports (@cbcsports) August 16, 2015
Jump around! #CBCPARAPANAM http://t.co/tF7L4QpXYB

— CBC Sports (@cbcsports) August 16, 2015
The ceremony finished with a bang as fireworks lit up the square over Toronto City Hall. As the crowd oohed and aahed, Serena Ryder's "Together We Are One" played in the background, the official song of the Toronto 2015 Pan/Para Am Games.
.@serenaryder's amazing song "Together We Are One" helps unleash the final night of #TO2015 fireworks. #ParapanAm pic.twitter.com/uYAkRU8OIL

— TORONTO 2015 (@TO2015) August 16, 2015
The fireworks show is on full display at Nathan Phillips Square #CBCPARAPANAM http://t.co/xWUHNnbxmX

— CBC Sports (@cbcsports) August 16, 2015
A big congratulations to all of the athletes, and of course, to Toronto for hosting a memorable Pan Am/Parapan Am Games.
What was your favourite moment from the Parapan American Games? Share your thoughts in the comments below!
Related on HuffPost: