A South African crew helping B.C. fight its wildfires is making a lasting impression — through their work and their music.
When they arrived in B.C. earlier this month, the firefighters greeted provincial officials with a traditional South African song, which was captured on video. (Watch above.)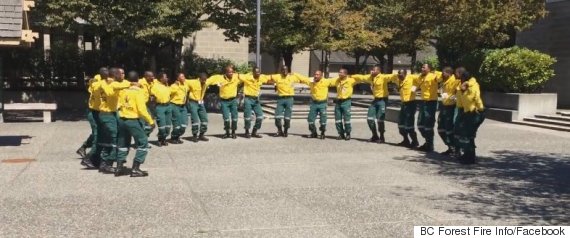 "Our upbeat and always happy South African crews with their song and dance have been well received in Canada, and they have set positive examples to the local and international crews on how to build strong morale and teamwork," the group's managing director Llewellyn Pillay told a South African website.
The firefighters have been in Canada since July 21 as part of a resource-sharing deal between the two countries. Crews were initially sent to the Edmonton area, and a second crew was later deployed to help in B.C.
The Alberta-based crews also gave their Canadian counterparts an a capella greeting, reports CBC News.
"This job is very important to us because I'm able to save another country," firefighter Constance Mavuso, who is visiting Canada for the first time, told the outlet.
The group will return home by Aug. 21.
Read more:

Like Us On Facebook

Follow Us On Twitter

Follow Us On Instagram
Also on HuffPost
Messages For B.C. Firefighters (Summer 2015)