Rob Wells/Facebook
An Alberta man has been slapped with a $543 fine after placing a bold political message targetting Tory Leader Stephen Harper in the back window of his car.
Rob Wells placed a hot pink sign reading "F*CK HARPER" in his hatchback recently, and was pulled over by RCMP Sunday, while driving near the city of Leduc.
Wells said he refused the officer's request to remove the sign.
"When I refused to let him trample on my Charter rights, he gave me a ticket," Wells wrote in a Facebook post. "I'll be pleading NOT GUILTY and raising a Charter right defense. I'll also be filing a complaint against the officer for political harassment."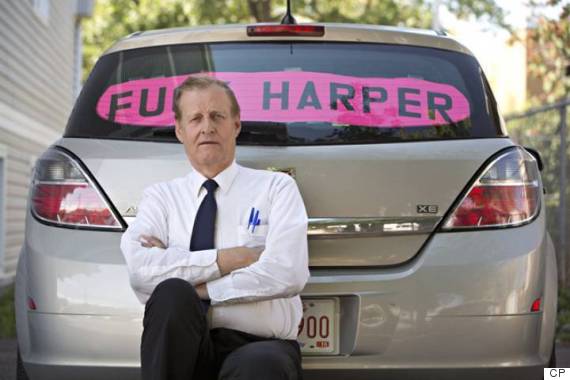 Rob Wells stands with his Steven Harper sign he put in his vehicle's rear window in Edmonton Alta, on Wednesday Aug 19, 2015. (THE CANADIAN PRESS/Jason Franson)
Wells claims he vetted the sign with lawyers, who told him displaying the message is not illegal.
Harper's Brown Shirted RCMP are at it again. Last time, they threatened me with criminal prosecution for having an...

Posted by Rob Wells on Monday, August 17, 2015
"I put a lot of thought in before I put a sign like that on my car," Wells told CTV News, adding that he has driven to B.C. and back with the sign in place.
"Harper supporters are very offensive to me, so being offensive is not illegal in this country."
Wells, who lives in Edmonton, said he plans to fight the ticket, which was issued for distraction. It's the same charge used against a man who screamed vulgarities at a CBC Calgary reporter in May, reports VICE Canada.
Like Us On Facebook

Follow Us On Twitter

Also on HuffPost: