Thousands of Canadian philanderers are likely sweating a bit after cheating website Ashley Madison confirmed that hackers released the private data of up to 37 million users.
The group, known as the Impact Team, stole the information in July and threatened the Canadian-based company that they would release it if the site wasn't shut down.
The leaked information includes names, street address, email addresses and amounts paid to the site. However, the leak didn't include credit card numbers, according to Wired.
The breach has already affected one Canadian. The Toronto Sun interviewed a husband in Mississauga, Ont. who used the site for "two to three years." His information was released by the hackers when they threatened to do the mass data dump in late July.
"Sometimes, you're just curious, looking for friends, but then it doesn't necessarily appeal to you," the man told the outlet.
"Like I said, it is a stupid (website). You go just to see what is out there. It was pretty much a waste of time ... to join."
It's not surprising that the Toronto-based Ashley Madison appears to have a significant Canadian user base.
A chart hosted on Dadaviz.com, using data sourced from the leaked files, listed Toronto as having the fourth-highest number of Ashley Madison clients in the world. This puts Toronto ahead of larger cities such as Los Angeles and London.
Calgary also appears on the list with more than 107,000 users.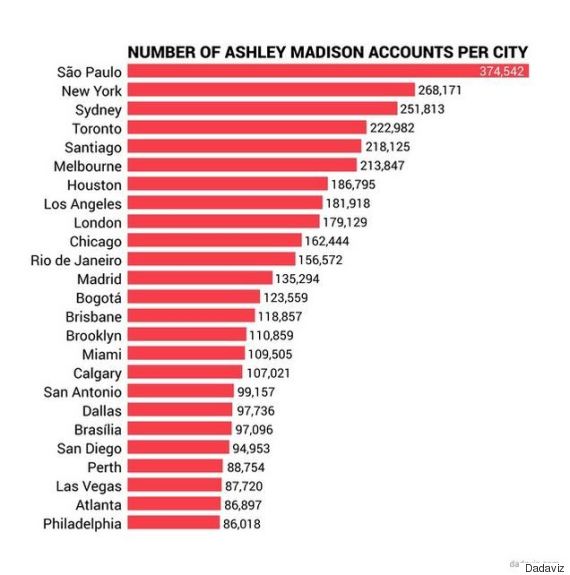 However, it's unknown how many of the accounts are active, duplicates, or created using fake e-mail addresses. Avid Life Media, the company behind Ashley Madison, was involved in a lawsuit about alleged fake accounts, which was apparently cited by the Impact Team as one of the reasons behind the hack.
Global News estimates more than 273,000 accounts have .ca (Canadian-registered) email addresses — and more than 600 appear to come from Canadian government or military domains.
Earlier this year, Ottawa was reported to have one of the highest concentrations of Ashley Madison users. The company claimed that more than 180,000 people — or almost one-in-five in the city of 883,000 — had accounts .
Avid Life Media has strongly condemned the data leak and says it is co-operating with law enforcement in Canada and the U.S. to find the hackers.
Also on HuffPost
Is Your Partner Cheating? 20 Red Flags