PETRAS MALUKAS via Getty Images
Baby racing is exactly what it sounds like. It's when infants go head-to-head to see who will earn the title of fastest crawler in a hilarious, yet adorable showdown!
These amusing diaper derbies can be dated back to the 1940s. An annual event in the U.S. was sponsored by the National Institute of Diaper Services and babies would chase after stuffed animals that sat at the finish line.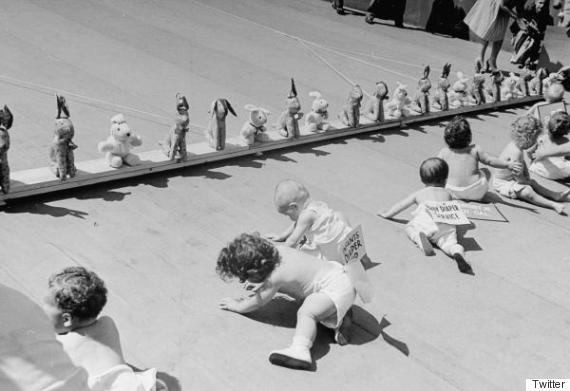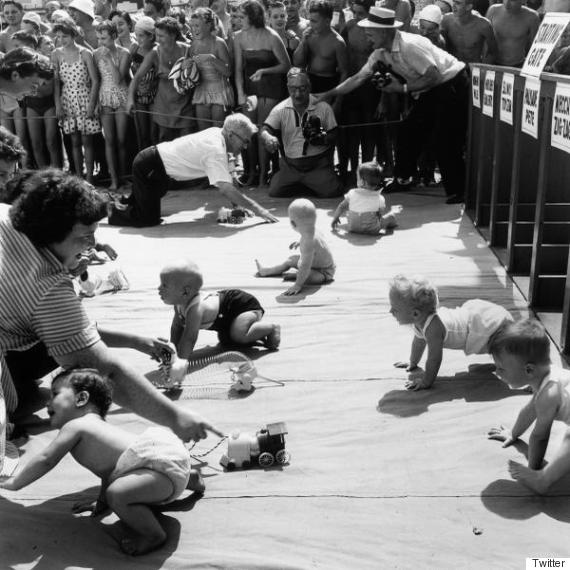 Today, these baby races continue to be held around the world, including: Canada, the U.S., Lithuania, China and Taiwan.
The rules are simple. Babies can be of any age as long as they can crawl. If they stand up at any point during the race, they are immediately disqualified. Parents are allowed to stand on both ends of the lane to encourage their baby to crawl to them as fast as possible.
Commenting on New York's Diaper Derby held in North Tonawanda in July, emcee MaryAlice Demler said: "The real show is the parents. The kids are adorable, of course, but I've seen the parents do some really ridiculous things to coax the little ones to the finish line. I've seen it all, cell phones, car keys, you name it."
The babies who compete win all sorts of prizes, depending on who is sponsoring the event. In the past, a baby crawl in Sherwood Park, Alberta, gave the winning infant gift certificates and RESP money. In the annual Memphis Grizzlies contest, the winner receives tickets to a future Grizzlies game, an Ashley Furniture Home Store gift card, and a golden bottle trophy.
But despite if your baby wins or loses, the cuteness is worth it! Just take a look at these adorable baby races below!