Another day, another example cultural appropriation in the fashion industry.
Elle Canada is currently facing backlash for a story that claims "dashikis are the new kaftans."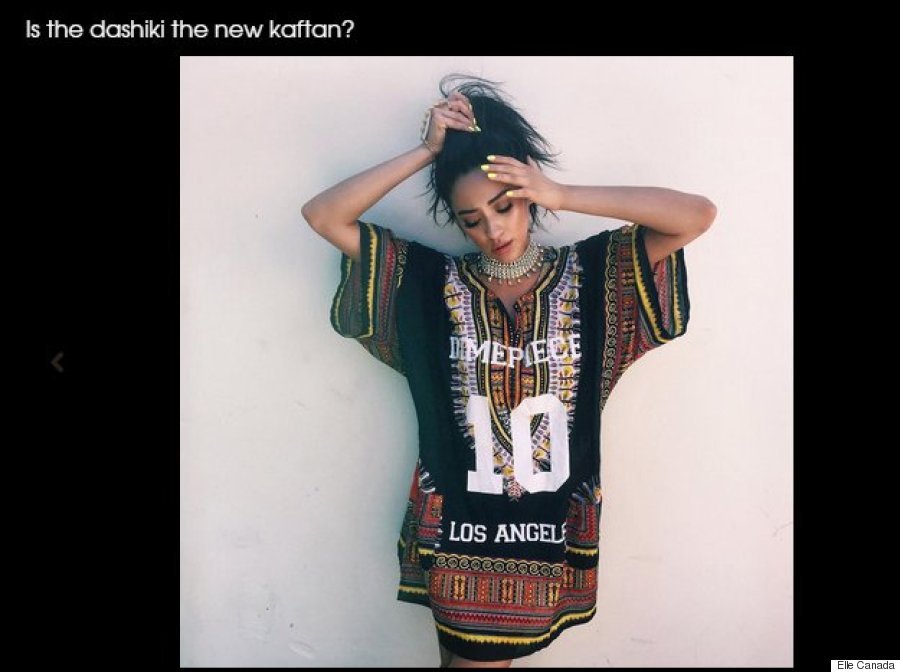 The magazine posted the story on Twitter Wednesday night (that has since been removed) deeming the garment he "newest It-item of note."
Naturally, the Twitterverse wasn't impressed, with many people calling out the magazine for saying the traditional West African garment is "in style," when it's been an integral part of black culture for years.
Hi @ElleCanada Ensure your social media team is well traveled & educated. The dashiki has BEEN "IN". How #ignorant pic.twitter.com/T0kfITvj3E

— BECK (@Bravura_Beck) August 20, 2015
Hey @ElleCanada is this a joke? We'll borrow the hashtag- #mycultureisnotcouture pic.twitter.com/wJaXayGmsM

— Media Diversified (@WritersofColour) August 20, 2015
since when we're dashiki's new? my culture is not a trend https://t.co/o3iVhg72JL

— yo jawn rasheda (@_stxcey) August 20, 2015
Elle Canada showed dashikis from Forever 21 in that post. Forever 21 doesn't even call them dashikis. No cultural context. Very offensive.

— Dynamic Africa (@DynamicAfrica) August 20, 2015
This is so irritating. NOTHING about a dashiki is new. It's been the "it-item" in African countries since forever https://t.co/4OoLuDmize

— Ugo ☀️ (@LOVEugonma) August 20, 2015

But Elle Canada isn't the only publication to be criticized for cultural appropriation. Earlier this month, Allure magazine was under fire for using a white model in an Afro tutorial, while Teen Vogue faced the same backlash for using a "white model" in a Senegalese twists story.
So far, Elle Canada has yet to comment on the controversy.
Follow Huffington Post Canada Style on Pinterest, Facebook and Twitter!
ALSO ON HUFFPOST:
Photo gallery

Craziest Fashion Controversies & Feuds

See Gallery