Now the rich will be able to literally look down on us while they swim.
The "Sky Pool" will be part of a new development in London, called Embassy Gardens by Eco World and Ballymore.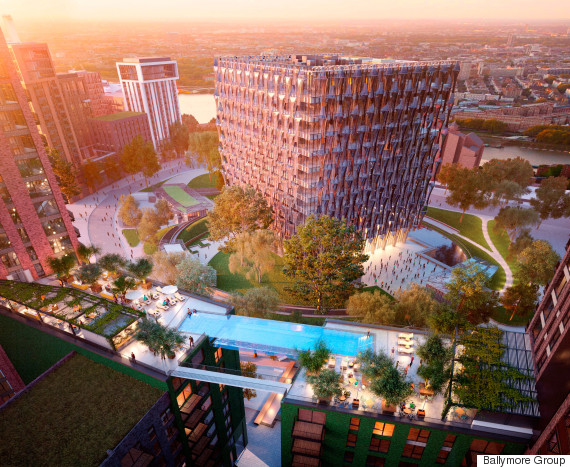 According to Mashable, the dimensions of the pool will be 25 metres by 5 metres (and 3 metres deep).
What about the glass protecting swimmers from diving 35 metres into the ground? About 20 centimetres (7.9 inches) thick.
The Sky Pool will act as a sort of aquatic bridge, linking two apartment buildings in the Embassy Gardens development. So residents would be able to casually swim over to borrow a cup of sugar from their neighbours. Two thousand homes will have access to the pool.
The reaction on social media ranged ranged from impressed...
If I don't get to swim in this glass-bottomed pool once in my life, I'm going to be so mad.

http://t.co/P1vFQdXBpM pic.twitter.com/u9SvpsSoOS

— Benjamin Law (@mrbenjaminlaw) August 20, 2015
...to the (understandably) adverse...
You couldn't pay me to swim in this http://t.co/RQqcgjFvhd pic.twitter.com/sJr9aTMfEj

— Iain Duff (@iainduff) August 19, 2015
...to 'pool pee-ers'...
I'd pee in that pool @tcgentry MT @Independent: London flat pool lets you look down http://t.co/EojjQwgyZi pic.twitter.com/LgJ4afWyJT

— Jough (@Roberjough) August 19, 2015
...to the doubters.
What could possibly go wrong? RT @verge: London's sky pool will let the super-rich swim through the air http://t.co/lZ8gTKYPNs

— Art.hur Rothfuss III (@a3photo) August 20, 2015
What do you think? Would you swim in the Sky Pool? Let us know in the comments below.
Also on HuffPost
River Thames To Get A Swimming Pool