Instagram/Bri_WasHere
When it comes to diversity in mainstream media, we still have a long way to go. Sure, there are eight black women covering September issues of magazines this year, but compared to the numerous other covers featuring non-women of colour, it's clear there's definitely room for improvement.
Even a simple Google image search for "beautiful skin" will show mostly white models with light eyes and long, straight hair, which shows just how limited our society's beauty ideals are.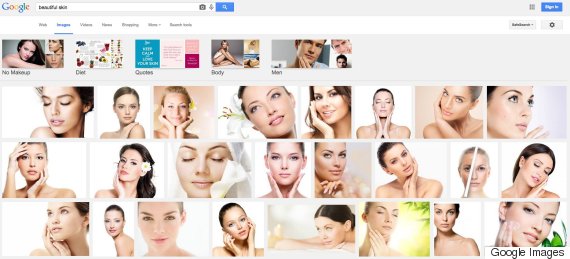 Well, women and men of colour are taking to social media to air their frustration and bring diversity to mainstream media with the hashtag #FlexinMyComplexion. By sharing photos of themselves, they are setting to prove that white skin is not the only beautiful complexion.
#FlexinMyComplexion cos whether tan or fair, I'm human & don't need approval from other humans. @nalisaaa pic.twitter.com/N1LjCE7OnO

— Annatasha Saifol (@monkeydisease) August 21, 2015
#FlexinMyComplexion because I love love LOVEEEEE my brown skin 🍫🍫 pic.twitter.com/FcUqF3VbEg

— Thelmz (@itsthelmzz) August 15, 2015
I normally feel awkward posting selfies on here because I'm bad at them, but here's my #FlexinMyComplexion pic.twitter.com/RF5BZ3xBQE

— - ̗̀LordNagaraja ̖́- (@LordNagaraja) August 14, 2015
"Diverse beauty and the representation of different ethnicities is an area that is extremely under-represented in the mainstream beauty industry," Lotions, Potions & Me blogger Segun Garuba told HuffPost UK Lifestyle. "And although there has been some movement for more inclusive beauty across the media and brands, such as with Rihanna for Dior's Secret Garden campaign, Lupita Nyong'o for Lancôme and Neelam Gill for Burberry, there is still a long way to go."
According to Buzzfeed, the hashtag was inspired by artist and activist, Kameelah Janan Rasheed. And while the responses being generated from #FlexinMyComplexion are mostly positive, some critics say it's sparking a "race row" as some white people are feeling "excluded."
However, Garuba doesn't think the campaign is racist.
"When I look at both [Rasheed's] artwork and a large number of the posts by the women who are using the hashtag, I don't believe it's in any way meant to be racist."
She adds: "Instead I believe that a group of women who do feel they are under-represented by the beauty industry are using it as an opportunity to not only showcase, but to also celebrate, their skin tones."
"They are not proposing that by the use of the hashtag it means other skin tones are not beautiful, but instead are using it as a way to unapologetically embrace their beauty even if the industry won't and thereby empower other women to believe that their skin tone is also beautiful."
We couldn't agree more!
Follow Huffington Post Canada Style on Pinterest, Facebook and Twitter!
ALSO ON HUFFPOST: