Thousands of sticklebacks have washed up dead in Tianjin — nine days after a deadly chemical explosion rocked the coastal city in northern China.
Pictures of the mass die-off surfaced on social media showing schools of fish spread across the Haihe River shoreline, six kilometres away from the blast site.
I got up close to the massive fish die-off in #Tianjin, and now plan to never do anything like that again. #China pic.twitter.com/N1iQWoFHNp

— Dan Levin (@globaldan) August 20, 2015
A local environmental official told The Guardian it's "not uncommon for fish to die en masse in local rivers during summer, due to poor water quality."
The official also cited hypoxia — inadequate oxygen in the water — as a standard reason fish die in such quantities.
Government officials reiterated on Thursday that decontamination efforts remain ongoing to treat the high levels of toxic chemicals reported near the Port of Tianjin.
Authorities have admitted more than 70 times the legal limit of sodium cyanide — 700 tonnes of it — was stored at the site.
Sodium cyanide is a highly toxic chemical commonly used in mining. It can be deadly in small quantities, preventing the body from properly taking in oxygen, causing humans to suffocate.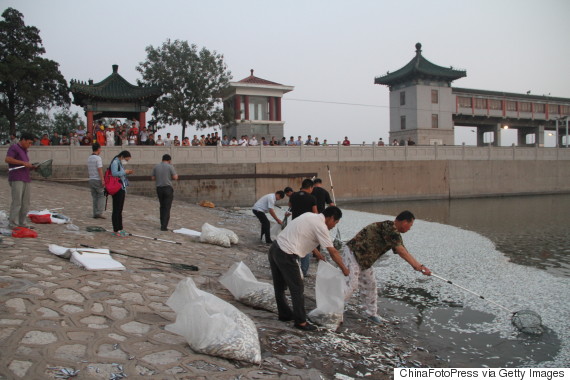 Workers collect dead fish along the shore of Haihe River Dam on Aug. 20 in Tianjin, China. (Photo: ChinaFotoPress via Getty Images)
On Thursday, several reports suggested cyanide levels in Tianjin's waters to be between 277 to over 350 times the standard limit.
"Cyanide was detected at eight water monitoring spots inside the warning zone, with levels at one spot exceeding limits by 356 times," a government environmental protection official said.
The fish die-off comes days after the city's first rainfall reportedly left a mysterious white foam in parts of the city. The South China Morning Post said some residents experienced burning sensations with the rain, as did the curious few who touched the froth.
At least 114 people were killed when a series of explosions ripped through a portside warehouse containing hazardous materials on Aug. 12.
According to CNN, approximately 17,000 homes were damaged and 3,000 cars were destroyed.
Also on HuffPost: