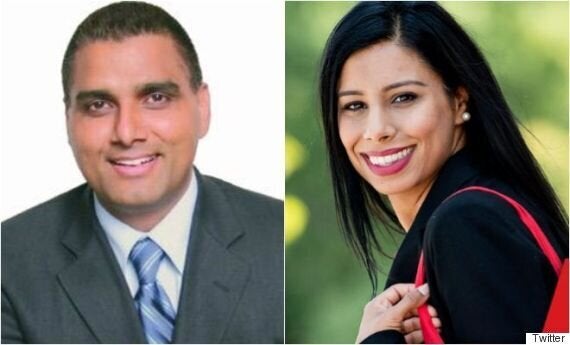 Conservative incumbent Parm Gill, left, is running against Liberal Ruby Sahota, right, in Brampton North.
A Liberal candidate is accusing a Conservative MP of lying about her views in a pamphlet in which he attacks a former political foe with the same first name.
Parm Gill, the Tory incumbent in the hotly contested Greater Toronto Area riding of Brampton North, sent a letter to constituents — at taxpayers' expense — in July slamming his opponent "Ruby" for championing an expensive policy that neither the Liberal party nor the current Liberal challenger supports.
"Do you support Ruby and the Liberal policy of giving pension to people who have only been in Canada for 3 years and will cost Canadians $700 million per year," asks Gill in his letter.
"Ruby and the Liberals have been pushing to lower the residency requirement for Old Age Security (OAS) from 10 years to 3 years for new immigrants," he asserts. "Granting OAS to individuals who have spent just 3 years in Canada, only benefits those who came to Canada late in their lives."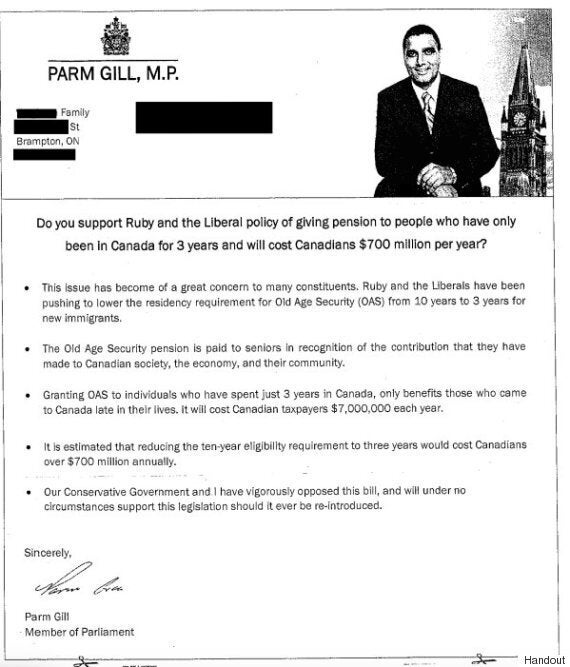 Gill is facing off against Liberal candidate Ruby Sahota. But the Ruby who championed that policy was the former Liberal MP, Ruby Dhalla. Dhalla introduced a bill, C-428, in 2009 that sought to reduce eligibility requirement for monthly Old Age Security pensions. The bill was not supported by the Liberals — their pension critic opposed it at the time — and it was never moved or studied.
"I don't know what to call it other than a blatant lie," she told The Huffington Post Canada in a phone interview.
"He has eliminated last names in the letter, and sent this out … to all the constituents, clearly lying and misleading them to believe that I'm in support of this bill or that I have something to do with creating a bill, or the Liberals for that matter," she said.
The Liberal party has no such plans, she added, and voters are being duped into believing the Grits would enact expensive and irresponsible legislation.
HuffPost sought a comment from Gill numerous times over the past two weeks, but he did not respond.
'Inciting fear for political gain'
In a Facebook post last month, Sahota lashed out at Gill, saying he was misusing taxpayers' money with the mailing and outright deceiving the people who had put him in power. "I am not someone who believes in attacking their opponents, but things are getting out of hand and I cannot sit by idly and let Parm Gill attack my credibility," she wrote.
"The clear intention of this deception is to confuse constituents of Brampton North into thinking that, I, Ruby Sahota had anything to do with it. I unequivocally oppose this position and have never been involved with any aspect of this bill in the past, nor do I intend to in the future."
Gill is "unnecessarily inflam[ing] fears pertaining to immigrants," she wrote, and "inciting fear for political gain."
Sahota said Gill's letter is coming up at the doorstep, and she lacks the funds to print letters of her own to correct the record for the riding's 111,951 constituents.
It's not the first time Gill has used taxpayers' resources to attack his Liberal challenger and confuse constituents.
The Conservative candidate also used his MP office to send out letters to riding residents attacking the Liberals' sex education curriculum as being too "graphic" and "explicit." He failed to mention that this was policy of the provincial Liberals.
Gill translated the letter into Punjabi — the riding has a heavy South Asian population — and included detailed information about masturbation as an example, Sahota said.
It has been a "hot issue" at the doors, she added. "People are associating provincial Liberals with federal Liberals with the sex-ed curriculum."
"I would like him to run based on his platform," she told HuffPost about Gill. "A dignified race, based on what each candidate is going to do for the residents of the community, not based on attacks on the other side, especially when those attacks are false and misguided lies to the community," she said.
"People want to see more from their federal representatives. They are tired of politicians that mislead and lie; they want to see somebody that they can trust in that position."
Brampton North is a new riding carved out of three local ridings: Brampton–Springdale, Bramalea–Gore–Malton, and Brampton West.
Gill beat Dhalla for the Brampton–Springdale seat in 2011 with 48.3 per cent of the vote against her 27.9 per cent.
The NDP, which received 19.6 per cent of support in 2011, is running former leadership candidate and Sikh convert Martin Singh this time.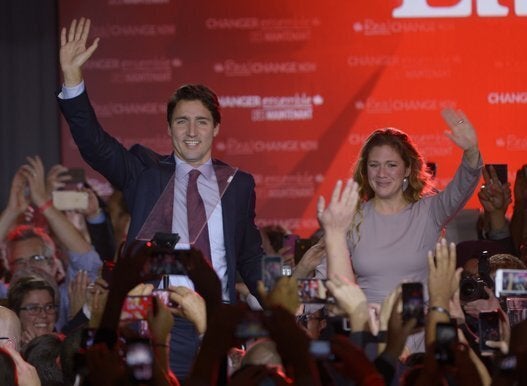 In Photos: Canada Election 2015