Few people can boast that they've gotten this close to a humpback whale in the wild.
Michelle Wigmore and her husband Robert were on their boat near Thormanby Island off B.C.'s Sunshine Coast on Saturday when the massive animal approached.
The couple immediately shut off the engine and watched as the whale circled and swam under their vessel for about half an hour. (Watch video above.)
"It was incredible," Michelle Wigmore told The Huffington Post. "Such a peaceful experience and as massive as this creature was, it was so graceful, barely churning the water as it moved through the water around our boat.
"It kept popping up, lifting its head and just 'looking' at us. We will never forget it."
The couple — and their boat named "Plum Lucky" — have had some incredible encounters with marine life this month. Days before meeting the humpback, they watched as a clever seal hopped into their dinghy to escape a hungry group of orcas.
What are the odds! "Plum Lucky" indeed.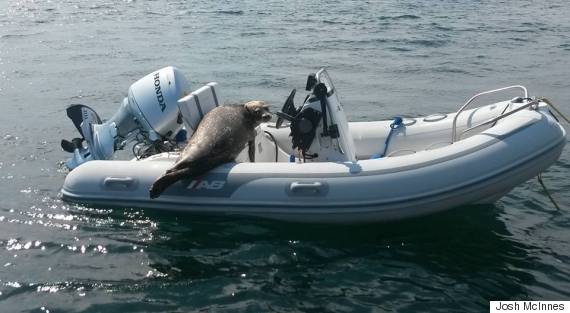 Like Us On Facebook

Follow Us On Twitter

Follow Us On Instagram
CORRECTION - Aug. 25, 2015: An earlier version of this story stated the name of the boat was "Lucky Plum," when in fact it is named "Plum Lucky."
Also on HuffPost
Photo gallery
Humpback Whale Encounter Off Patos Island, Wash.
See Gallery