A fortuitous twist on one couple's wedding day created a remarkable photo to mark their momentous milestone on Saturday.
"In all honesty I don't know if I can think of a wedding photo that I've seen that screams Canadian culture more than this," said photographer Megan Smith in an email. "I had no idea this photo would go so viral."
The photo taken by the Newfoundland and Labrador-based photographer shows RCMP officer Steve Howlett dipping his bride Naomi and kissing her in front of 11 smiling Mounties dressed in red serge.
A few months before the big day, the couple learned that the RCMP's world-renowned musical ride would coincide with their wedding day plans in Mount Pearl.
The bride told Smith it was "very important" to get shot with the Mounties and their cavalry. But the logistics behind the dream photo was nerve-wracking, Smith admitted.
"Most times with weddings you are running against the clock to keep to the schedule," she told The Huffington Post Canada. For this photo, the bride, groom, and photographer had only a five-minute window. And she nailed it.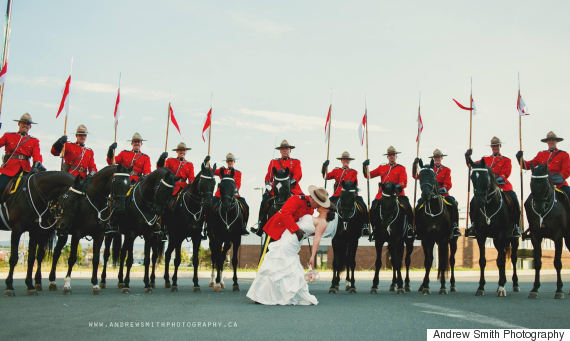 "On the day of, I went ahead of the bridal party and made arrangements to have it happen before the musical ride actually took place and help us avoid chaos," said Smith. The ripples of panic she felt earlier were settled by the helpful nature of the people around her.
"It all fell into place and we feel very lucky."
(H/T CBC Newfoundland & Labrador )
Also on HuffPost:
Photo gallery

50 Modest Wedding Dresses For Princess Brides

See Gallery