Some kids only dream of becoming a prince or princess when they grow up, but for journalist Max Knoblauch, this dream became a reality.
Over the course of one week, the 23-year-old Mashable reporter stepped into the shoes of Prince George by recreating some of the iconic looks donned by 2-year-old royal. From the white shirt and red shorts look George rocked at Princess Charlotte's christening to the knee-high socks he was photographed in last Christmas, Knoblauch wore them all — and to work, no less!
Knoblauch certainly isn't the the first person to try dressing like a toddler. In 2014 Salon media coined the term 'toddlercore,' pointing out that many popular fashion items were inspired by kids. And it's not just pigtails and pineapple prints. Toddlercore includes festival favourites like flower crowns and denim overalls.
Of course, as he points out in his piece for Mashable, Knoblauch's take on the Prince's more popular outfits didn't get as much praise as they did when the royal heir wore them. So, even though GQ named the little prince a style icon, his best looks might be better reserved for toddlers... or maybe just leave him alone entirely.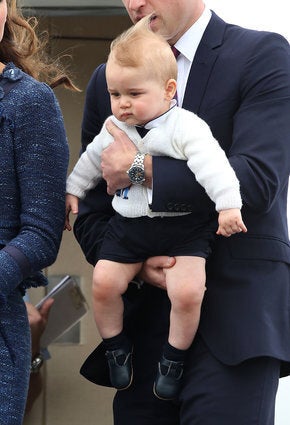 Prince George's Cutest Moments